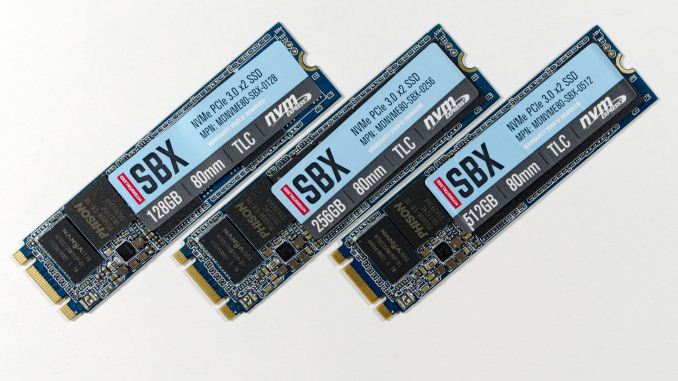 MyDigitalSSD's business model revolves around selling drives based on Phison reference designs. Like any other small SSD brand, MyDigitalSSD lacks the resources to develop their own SSD controller or even write their own firmware from scratch. The way MyDigitalSSD distinguishes themselves from the many competing brands is by offering drives for substantially lower prices and by being one of the first to market with new controllers from Phison. The SBX checks both boxes: it is priced below the Samsung 860 EVO SATA SSD, and it hit the market in December 2017 as the first Phison E8 drive to ship and one of the earliest retail SSDs to feature Toshiba/SanDisk 64-layer 3D NAND.
As one of the cheapest NVMe SSDs on the retail market, the MyDigitalSSD SBX is a good indicator of the progress NVMe drives have made toward replacing SATA SSDs instead of merely coexisting as a premium high-end alternative.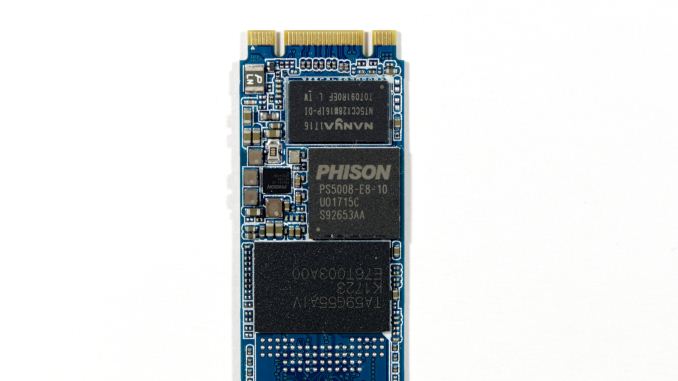 The Phison E8 controller is one of Phison's low-end options from their second generation of NVMe SSD controllers. The E8 features just two PCIe lanes instead of the usual 4 enabled by an M.2 slot, and a four-channel interface to the NAND—half what is typical for high-end NVMe SSDs. These restrictions combined with a 40nm fabrication process allow the E8 to be a much smaller and cheaper controller than those aiming for the high-end part of the market. To cut costs even further, drive makers can opt for the Phison E8T variant that drops the external DRAM interface. The E8T supports the NVMe Host Memory Buffer feature to mitigate the performance impact DRAMless SSDs usually suffer from, but the E8T hasn't caught on in the consumer SSD market yet.
Despite its low-end role, the Phison E8 is in several ways more advanced than Phison's E7, their first NVMe SSD controller. Major improvements to the error correction capabilities have allowed the E8 to support 3D TLC NAND instead of being confined to the 15nm planar MLC used by E7 drives. The E8 and E8T controllers will also be joined by a high-end E12 controller later this year to round out Phison's second generation of NVMe controllers.
MyDigitalSSD SBX Specifications
Capacity
128 GB
256 GB
512 GB
1 TB
Form Factor
M.2 2280
Interface
PCIe 3.1 x2, NVMe 1.2
Controller
Phison PS5008-E8
NAND
Toshiba BiCS3 64-layer 3D TLC
DRAM
DDR3
Sequential Read
1600 MB/s
Sequential Write
1300 MB/s
4KB Random Read
240k IOPS
4KB Random Write
180k IOPS
Max Power
5 W
Write Endurance
120 TB
0.5 DWPD
200 TB
0.4 DWPD
375 TB
0.4 DWPD
800 TB
0.4 DWPD
Warranty
5 years
Amazon Price
$52.99 (41¢/GB)
$84.99 (33¢/GB)
$157.99 (31¢/GB)
$309.99 (30¢/GB)
This review will primarily compare the SBX against other recent NVMe SSDs, but a few SATA results are included for context. As the cheapest NVMe SSD we have tested so far, the SBX isn't quite in direct competition to all the NVMe SSDs it is being compared against. We have other low-end NVMe SSD reviews in the works including Kingston's A1000 (their take on the Phison E8 platform), and the HP EX900 featuring Silicon Motion's low-end SM2263XT controller. ADATA's SX6000 is the main alternative to the SBX for a NVMe drive in this price range, but we have not had the chance to test the SX6000 or any other drives using Realtek's SSD controller.
We did not test the MyDigitalSSD BPX, the SBX's predecessor based on the Phison E7 platform with 15nm planar MLC NAND. Instead, we have results from the Patriot Hellfire and Team T-Force Cardea, two other M.2 drives based on the same reference design.
AnandTech 2017/2018 Consumer SSD Testbed
CPU
Intel Xeon E3 1240 v5
Motherboard
ASRock Fatal1ty E3V5 Performance Gaming/OC
Chipset
Intel C232
Memory
4x 8GB G.SKILL Ripjaws DDR4-2400 CL15
Graphics
AMD Radeon HD 5450, 1920x1200@60Hz
Software
Windows 10 x64, version 1709
Linux kernel version 4.14, fio version 3.1