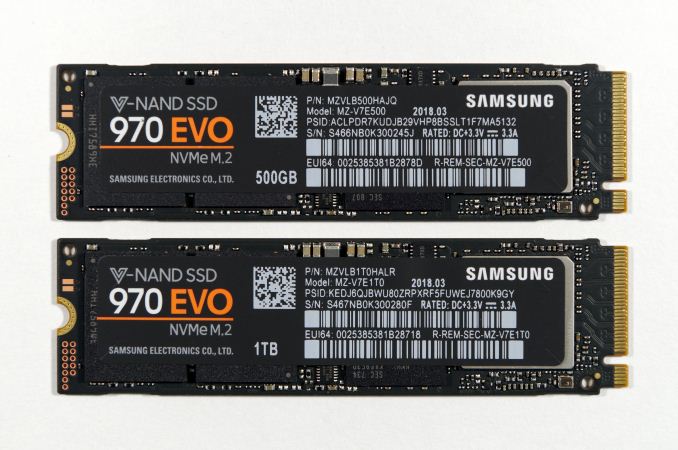 The new Samsung 970 EVO isn't their top of the line consumer SSD, but it might as well be. With their latest 3D TLC NAND flash memory and SSD controller, the 970 EVO offers almost all the performance of its PRO counterparts but without such a steep price premium.
Phoenix Rises
Today, Samsung is launching two new stacks of SSDs: the 970 EVO and the 970 Pro. The new Samsung 970 EVO is the more mainstream TLC-based option from Samsung's new generation of consumer NVMe SSDs, while the 970 PRO is using MLC NAND flash memory. From our perspective, the much more affordable 970 EVO will be the more interesting product.
The broad strokes of the 970 EVO have been obvious for months thanks to availability of the Samsung PM981 client SSD for OEMs. From that drive, we knew that the replacement for the 960 EVO would move from 48-layer 3D TLC to 64-layer TLC, and the Samsung Polaris controller would be replaced by the Phoenix controller. That combination was beating some records set by the 960 PRO when we tested the PM981 in November, so we've been looking forward to the 970 EVO for quite a while.
Read Our Samsung PM981 SSD Review
Samsung hasn't shared many architectural details of the new Phoenix controller, but like its earlier NVMe controllers it uses a PCIe 3.0 x4 interface and includes 8 channels for NAND flash access. Like the previous generation Polaris controller, there are five CPU cores, with one dedicated to host-side communications. We know the controller itself is capable of providing very high performance, because it is also used in Samsung's top of the line enterprise SSD, the Z-SSD SZ985. Performance with Samsung's 3D TLC NAND will be lower than with their Z-NAND, but not due to controller bottlenecks. The 970 EVO brings support for some of the more recent features from the NVMe 1.3 specification and otherwise is equipped to meet expectations for a high-end consumer SSD.
Most other SSD manufacturers have abandoned MLC NAND flash for their consumer product lines or for all of their SSDs with the transition to 64-layer 3D NAND. This means that Samsung's 970 PRO will have very little direct competition and the 970 EVO will be facing off against the flagship SSDs from most other brands. To better match the flagship products the 970 EVO will compete against, the warranty has been lengthened from 3 years to 5 years and write endurance ratings have increased by 50%. This is a substantial bump for anyone looking at Samsung's latest EVO drives.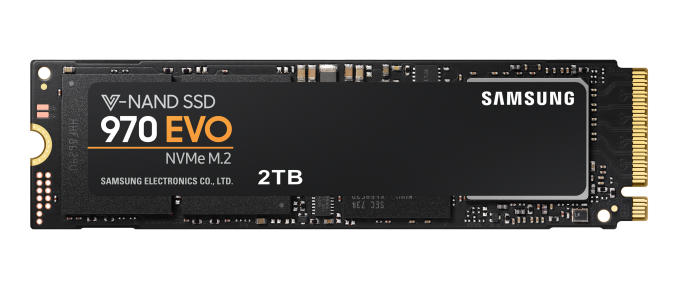 The Samsung 970 EVO is a broad product family ranging from 250GB up to 2TB. Similar to the last generation, Samsung offered a 2TB model, but from the PRO line - that option has been dropped this time around in favor of the much cheaper EVO version for a 2TB TLC drive. That 2TB model will be the only 970 EVO model to use Samsung's larger 512Gb 64L TLC die, while the smaller drives use the 256Gb die. This prevents the smaller models from suffering the performance penalties that come with the reduced parallelism of having fewer NAND flash chips on the drive. The 512Gb die also enables Samsung to easily fit 2TB onto a single-sided M.2 2280 card without resorting to the expensive DRAM on controller chip stacking that was necessary with the 2TB 960 PRO.
Samsung 970 EVO Specifications
Capacity
250 GB
500 GB
1 TB
2 TB
Interface
PCIe 3 x4 NVMe 1.3
Form Factor
M.2 2280 Single-sided
Controller
Samsung Phoenix
NAND
Samsung 64-layer 256Gb 3D TLC
Samsung 64L 512Gb 3D TLC
LPDDR4 DRAM
512 MB
1 GB
2 GB
SLC Write Cache
Dedicated
4 GB
4 GB
6GB
6 GB
Dynamic
9 GB
18 GB
36 GB
72 GB
Sequential Read
3400 MB/s
3500 MB/s
Sequential Write (SLC Cache)
1500 MB/s
2300 MB/s
2500 MB/s
2500 MB/s
Sequential Write (TLC)
300 MB/s
600 MB/s
1200 MB/s
1250 MB/s
4KB Random Read
QD1
15k IOPS
QD128
200k IOPS
370k IOPS
500k IOPS
500k IOPS
4KB Random Write
QD1
50k IOPS
QD128
350k IOPS
450k IOPS
450k IOPS
480k IOPS
Active Power
Read
5.4 W
5.7 W
6 W
6 W
Write
4.2 W
5.8 W
6 W
6 W
Idle Power
APST On
30 mW
PCIe L1.2
5 mW
Write Endurance
150 TB
300 TB
600 TB
1200 TB
Warranty
5 years
MSRP
$119.99 (48¢/GB)
$229.99 (46¢/GB)
$449.99 (45¢/GB)
$849.99 (42¢/GB)
The Samsung Phoenix controller introduces a nickel-coated heatspreader, and the 970 EVO retains the copper foil layer in the label on the back of the drive that was introduced with the 960 generation, but there are no more serious cooling measures on the drive. Samsung claims the 970 units are even less susceptible to thermal throttling thanks to a combination of higher performance before they throttle and a slightly higher temperature limit.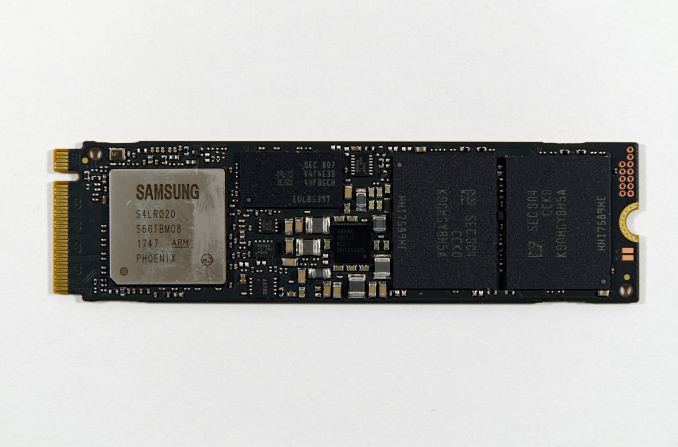 The 970 EVO and 970 PRO will be available for purchase beginning May 7, 2018.
Along with the 970 series, Samsung is launching a new version of their NVMe driver for Windows. As with almost all of our testing, this review sticks to just the NVMe drivers included with the operating system. We have generally not found vendor drivers to offer compelling performance improvements, though they have historically enabled some extra features that Microsoft's drivers don't allow for.
This review will compare the 500GB and 1TB Samsung 970 EVO against:
Results for several older NVMe SSDs and a few SATA drives are also included, as are results from Intel's ultra-premium Optane SSD 900P.
We will be reviewing the Samsung 970 PRO soon, and hope to include the rest of the 970 EVO capacity range in that review. In the near future, our SSD testbed will be updated with the OS and microcode patches for the Meltdown and Spectre vulnerabilities, so it is clear to point out that this review does not contain them yet. Since these updates will have enough of an impact on benchmark results to make new results incomparable to old results, I am also taking the opportunity to make some minor updates to the synthetic test suite. The outgoing 2017 test suite will also be run on several drives with the patched system to measure the performance impact of the patches. There will be several more SSD reviews over the next few weeks using benchmark results that have already been collected before the new test suite debuts.
AnandTech 2017/2018 Consumer SSD Testbed
CPU
Intel Xeon E3 1240 v5
Motherboard
ASRock Fatal1ty E3V5 Performance Gaming/OC
Chipset
Intel C232
Memory
4x 8GB G.SKILL Ripjaws DDR4-2400 CL15
Graphics
AMD Radeon HD 5450, 1920x1200@60Hz
Software
Windows 10 x64, version 1709
Linux kernel version 4.14, fio version 3.1