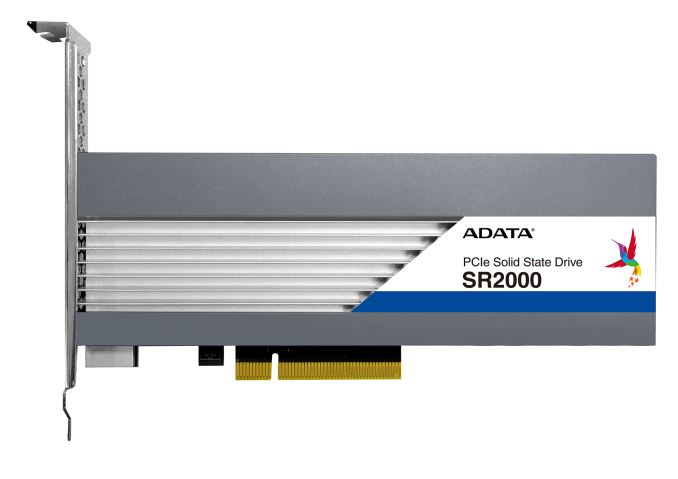 Until now, ADATA's SSD portfolio has consisted of client-focused SSDs and industrial-grade models based on similar hardware but optionally rated for extreme temperatures, with only the occasional purely server-oriented SSD. ADATA is entering a new market segment with the release of the SR2000 family of enterprise SSDs with capacities up to 11TB.
The ADATA SR2000 family uses Microsemi's Flashtec NVMe SSD controllers, from the generation codenamed "Belmar" consisting of the NVMe2016 and NVMe2032 controllers with 16 and 32 channels respectively (compared to 4 or 8 for client SSDs). The SR2000 family consists of two product lines: the U.2 SR2000SP and the add-in card SR2000CP. Both product lines include capacities ranging from 2TB to 11TB. The U.2 versions offer hot-swap capability while the add-in card versions support a PCIe 3 x8 interface for much higher sequential transfer rates and slightly better random read speeds. The SR2000 SSDs are aimed at read-intensive workloads, with endurance ratings in the 1-3 drive writes per day range and relatively unimpressive random write speeds.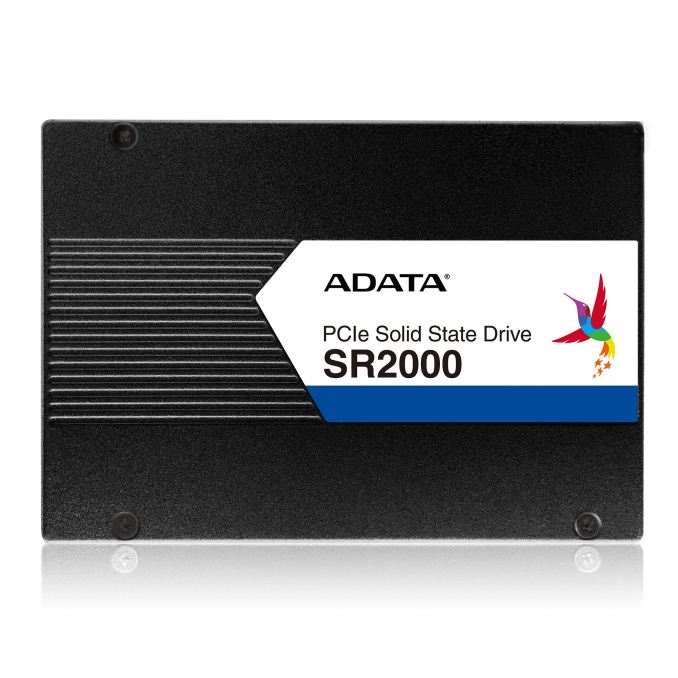 ADATA hasn't confirmed what flash memory they're using in the SR2000, but is is most likely Micron's 32L 384Gb 3D TLC NAND. This is a generation behind the 64L parts that are currently doing quite well in the client/consumer market. From a hardware perspective, this makes the SR2000 very similar to Micron's own 9200 series enterprise SSDs and some other drives that use the same controller and NAND combination, such as the Memblaze PBlaze5. That isn't to say that the SR2000 will behave the same as other NVMe2016-based drives: Microsemi's controllers dominate the high-end enterprise SSD market but each vendor that adopts the controllers does their own firmware customization. ADATA's product information doesn't offer much information about the firmware, and it is not clear whether advanced NVMe features like dual-port support or multiple namespaces are implemented by the SR2000 SSDs.
ADATA SR2000 Series Specifications
SR2000SP
SR2000CP
Form Factors
2.5" U.2 15mm
HHHL AIC
Interface
PCIe 3.0 x4
PCIe 3.0 x8
Capacities
2 TB, 3.6 TB, 4 TB, 8 TB, 11 TB
Controller
Microsemi Flashtec PM8607 NVMe2016 (or PM8609 NVMe2032)
Protocol
NVMe 1.2a
NAND
3D Enterprise TLC NAND memory
Sequential Read
3.5 GB/s
6.0 GB/s
Sequential Write
3.5 GB/s
3.8 GB/s
Random Read (4 KB)
830k IOPS
1000k IOPS
Random Write (4 KB)
140k IOPS
150k IOPS
Power
Idle
7 W
8 W
Operating
21 W
21 W
Write Endurance
1-3 DWPD
Power Loss Protection
Yes
MTBF
2 million hours
Operating Temperature
0°C to 35°C
0°C to 55°C
Warranty
Five years
The SR2000 may end up being a short-lived product for ADATA even if it is successful, because the long QA process for a successor with 64L 3D TLC is undoubtedly already underway. The competition is already sampling drives with 64L 3D NAND based on the same controllers, and other segments of the enterprise SSD market are already awash in 64L NAND.
Now that ADATA is competing in the enterprise/datacenter SSD market, it will be interesting to see what direction they focus their efforts. They could be preparing a higher-capacity, lower-endurance QLC NAND based follow-up to the SR2000, or they may choose to seek higher performance with newer TLC NAND. Any firmware work ADATA has done could also help should they decide to make use of Microsemi's newer 8-channel NVMe2108 controller that is suitable for M.2 and thinner U.2 SSDs. That controller has seen limited adoption so far, with a Lite-On prototype at FMS last year being our only sighting of the NVMe2108 in the wild.
Source: ADATA