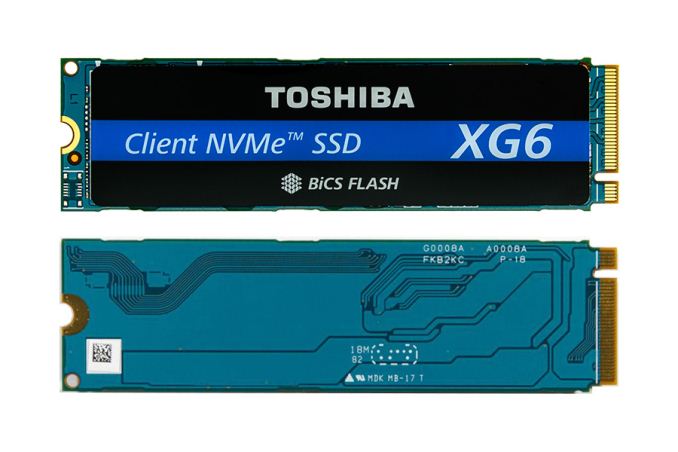 In 2017, Toshiba was the first vendor to ship 64-layer 3D NAND in the consumer SSD market with their XG5 NVMe SSD. Now a little over a year later, the XG6 is the first SSD with 96-layer 3D NAND. The new generation of flash memory allows for better performance, improved power efficiency, and lower costs.
As the high-end tier of Toshiba's OEM SSD product line, the XG series is not officially available for retail purchase, but we think this one is pretty likely to be used as the starting point for a retail product. The last XG series drive with a retail counterpart was the XG3, the planar MLC-based sibling to the OCZ RD400. Toshiba's low-end NVMe BG series of single-chip BGA SSDs also got a retail version in the Toshiba RC100, mounted on a M.2 2242 card. Retail and OEM versions usually have some firmware differences and occasionally one or two significant hardware differences such as 19nm vs 15nm MLC for the XG3 and RD400, or 30mm vs 42mm card length for the BG3 and RC100. Despite those differences, OEM SSDs are usually a pretty accurate preview of later retail versions.
OEM SSDs are usually not designed with maximum performance as the primary goal. OEMs prefer to have the option of sourcing more than one SSD for use in each of their systems, and they aren't interested in paying a large premium for some of their drives to be substantially faster than the rest. That said, for certain systems OEMs do want a true high-end drive, and the bar for that gets higher with every generation. Late last year, Toshiba introduced a higher performing XG5-P variant with a focus on better performance for more intensive workloads and benchmarks that exercise the full drive capacity with lots of random access. The XG6 is only intended to directly replace the XG5, but in light of the performance increases it brings, the 1TB XG5-P is now obsolete. The 2TB XG5-P may stick around for a while longer simply because the XG6 is not available in capacities above 1TB.
The new 96-layer BiCS4 3D TLC NAND used by the Toshiba XG6 is the most advanced flash memory currently shipping, but relative to the 64-layer BiCS3 that currently makes up most of the NAND volume from Toshiba and SanDisk it is more of an incremental update rather than revolutionary change. The increased layer count improves density but the TLC die capacities are still 256Gb and 512Gb. The I/O interface has been upgraded to the Toggle NAND 3.0 standard, with speeds in the 667-800MT/s range compared to the 400-533MT/s speeds used by earlier 3D NAND from Toshiba. The speed bump brings Toshiba's NAND up to par for its current competition, but it will soon be eclipsed by the 1.4GT/s Toggle 4.0 interface that Samsung's upcoming 96L V-NAND will be using. (Though it remains to be seen whether such a big increase in interface speed will have much effect on overall drive performance when drives will still be limited to PCIe 3.0 x4 speeds for another generation or two.) The NAND interface voltage has also dropped from 1.8V to 1.2V, so the higher I/O speed shouldn't have much impact on power efficiency.
Toshiba OEM NVMe SSD Comparison
Model
XG6
XG5
XG5-P
BG3
XG3
Retail Counterpart
None
RC100
RD400
Capacities
256GB, 512GB, 1024GB
1TB, 2TB
128GB, 256GB, 512GB
128GB, 256GB, 512GB, 1024GB
Form Factor
M.2 2280
M.2 2230
M.2 2280
Host Interface
PCIe 3.1 x4
PCIe 3.1 x2
PCIe 3.1 x4
Protocol
NVMe 1.3a
NVMe 1.2.1
NVMe 1.1b
NAND Flash
Toshiba 96L BiCS4 3D TLC
Toshiba 64L BiCS3 3D TLC
Toshiba 19nm MLC
Sequential Read
3180 MB/s
3000 MB/s
3000 MB/s
1500 MB/s
2400 MB/s
Sequential Write
2960 MB/s
2100 MB/s
2200 MB/s
800 MB/s
1500 MB/s
Random Read
355k IOPS
320k IOPS
Random Write
365k IOPS
265k IOPS
Power
Read
4.2 W
4.5 W
4.9 W
3.3 W
5.5 W
Write
4.7 W
3.4 W
3.2 W
6.4 W
Idle
3 mW
3 mW
3 mW
5 mW
6 mW
TCG Opal Encryption
Optional
No
Aside from the upgrade to a new generation of 3D NAND, not much has changed from the XG5. The Toshiba XG6 is still using the same TC58NCP090GSB 8-channel controller as the XG5, but with another year's worth of firmware development. The use of an existing controller probably helped Toshiba get the XG6 out the door sooner and ensure they could be first to ship drives with 96L NAND, but it is possible that the XG6's performance is being held back a bit by the older controller. The controller is not really obsolete yet since it is still one of the most power-efficient NMVe controllers available, but the new in-house controller Western Digital debuted earlier this year gets more performance out of the same flash while usually offering similar power efficiency. Toshiba will need a new controller next year in order to keep the XG series in the high-end segment.

The basic layout of the XG6 has not changed from the XG5, though the power delivery components have been modified slightly, likely to accommodate the lower voltage for the NAND interface. The XG6 is another single-sided design to maximize compatibility with the thinnest notebook computers. Our 1TB sample has two NAND packages each containing eight 512Gb BiCS4 3D TLC dies. Toshiba is using 256Gb dies on at least some of the smaller capacities, but they won't say specifically whether it's just the 256GB model or also the 512GB model. Either way, it's nice that they are willing to use the slightly less cost-effective low-capacity parts for smaller drives in order retain most of the performance by keeping all 8 of the controller's channels populated.
Our XG6 came with an unusual rigid plastic label that gives it the polished appearance of a retail product, but doesn't actually serve as the heatspreader it resembles. Thanks to the power efficiency of Toshiba's controller, heat shouldn't be a problem at all.
The Competition
We don't get OEM SSDs in for review very often. Toshiba is only really sampling the XG series because it is where their 64L and 96L NAND have debuted, and they haven't had retail versions ready to sample instead. Most of the other drives we have to compare the XG6 against are retail models, but most of them have OEM counterparts based on the same hardware and similar or identical firmware. For example, the WD Black is closely related to the WD SN720 that was announced slightly earlier but wasn't sampled for review.
AnandTech 2018 Consumer SSD Testbed
CPU
Intel Xeon E3 1240 v5
Motherboard
ASRock Fatal1ty E3V5 Performance Gaming/OC
Chipset
Intel C232
Memory
4x 8GB G.SKILL Ripjaws DDR4-2400 CL15
Graphics
AMD Radeon HD 5450, 1920x1200@60Hz
Software
Windows 10 x64, version 1709
Linux kernel version 4.14, fio version 3.6
Spectre/Meltdown microcode and OS patches current as of May 2018