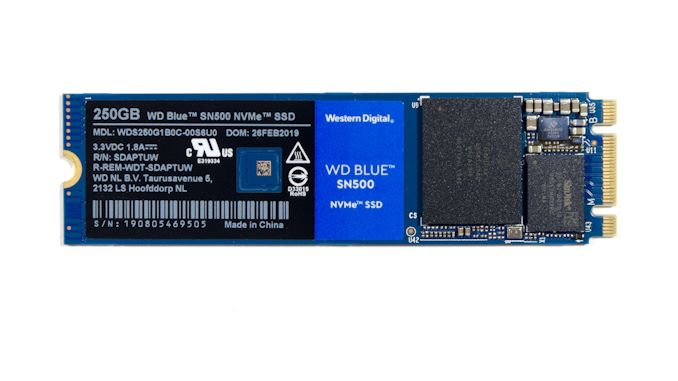 Western Digital's mainstream consumer drives have long been branded as WD Blue drives, and this carried over to SSDs after their acquisition of SanDisk. The first two generations of WD Blue SSDs were SATA drives using TLC NAND and were worthy competitors for the Crucial MX series and Samsung 850 EVO. The WD Blue SN500 is the third generation WD Blue SSD, and it moves the WD Blue brand over to a very different market segment: the SN500 is an entry-level M.2 NVMe drive.
Western Digital has been selling consumer NVMe drives for a few years using their high-end WD Black branding, but NVMe isn't just for enthusiast products any more. For the past year we've been seeing most SSD brands offering a lower tier of NVMe products that sit between their SATA and high-end NVMe offerings, both in terms of price and performance. This entry-level NVMe niche has at times been squeezed down to almost nothing when there are particularly well-priced high-end drives, but the general idea of splitting the consumer NVMe SSD market into two tiers isn't going away. SATA is starting to be phased out of use for primary storage in client PCs. Western Digital started supporting that trend over a year ago with the PC SN520 SSD for OEMs, which the WD Blue SN500 is derived from.
WD Blue SN500 Specifications
Capacity
250 GB
500 GB
Form Factor
M.2 2280 Single-Sided
Interface
NVMe PCIe 3 x2
Controller
Western Digital in-house
NAND
SanDisk 64-layer 3D TLC
DRAM
None (Host Memory Buffer not supported)
Sequential Read
1700 MB/s
1700 MB/s
Sequential Write
1300 MB/s
1450 MB/s
4KB Random Read
210k IOPS
275k IOPS
4KB Random Write
170k IOPS
300k IOPS
Power
Peak (10µs)
5.94 W
5.94 W
PS3 Idle
25 mW
25 mW
PS4 Idle
2.5 mW
2.5 mW
Endurance
150 TB
0.3 DWPD
300 TB
0.3 DWPD
Warranty
5 years
Current Retail Price
$52.99
(21¢/GB)
$72.99
(15¢/GB)
Despite bearing the WD Blue name, the SN500 is functionally not a direct replacement for the SATA WD Blue SSDs. The SATA predecessors offered capacities up to 2TB, while the SN500's only capacity options are currently 250GB and 500GB. Those are the most common and important capacity points for consumer SSDs, but the absence of 1TB and 2TB options are a glaring omission, especially now that 1TB drives are approaching $100. The lack of high-capacity versions of the SN500 make sense when considering the OEM SN520 it is based on: that drive was intended to compete against the smallest form factor SSDs used tablets and the thinnest notebooks. The OEM SN520 is available in form factors as small as M.2 2230, and even though the retail SN500 uses the more typical 80mm length that offers the broadest compatibility with consumer systems, it retains the same layout that puts all the electronics in the first 30mm of the card. The SN500 uses a design that was never intended to accommodate more than 512GB of flash. The extra length on the card is occupied only by the drive's label.
Like many entry-level NVMe SSDs the SN500 uses only two PCIe lanes for its host interface, which ensures it cannot match the peak performance of high-end drives with PCIe x4 connections. The lower lane count helps keep the pin count and power consumption of the controller down, which are important factors for a M.2 2230 drive but matter considerably less for a retail drive like the SN500.
The other major compromise in the SN500's design is that it does not feature a DRAM buffer for caching the mapping tables for translating logical block addresses (LBAs) into physical memory addresses. A DRAMless SSD usually has significantly lower performance than a mainstream drive with enough DRAM to store the mapping information for the entire SSD. In the NVMe world, the Host Memory Buffer feature allows SSDs to borrow a small amount of the main system RAM (usually a few tens of MB) for this purpose, offsetting the performance loss that DRAMless SATA drives cannot avoid. Western Digital chose not to use the Host Memory Buffer (HMB) feature for the SN500 and SN520, instead opting to include a few MB of memory in the controller itself, but nowhere near the 256MB or 512MB that would be included on drives with discrete DRAM chips.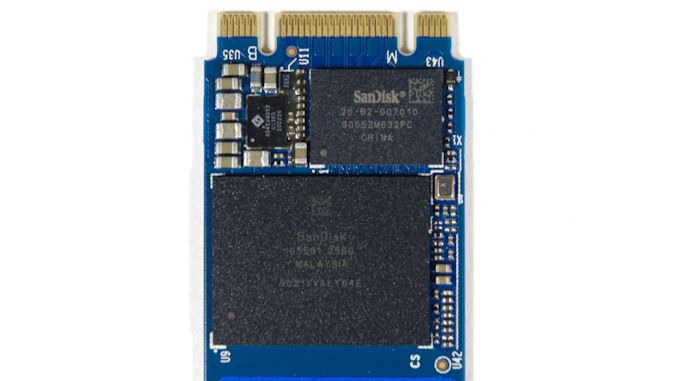 Aside from those two limitations, the SN500's controller shares the same basic architecture that the WD Black SN750's controller uses. Western Digital designed this architecture to scale across a wide range of products, so the cut-down configuration we find on the SN500 was part of the plan all along. These are the first generation of in-house NVMe controller designs from Western Digital, but based on our experience with the WD Blacks it doesn't feel like a 1.0 product: they skipped over all the disappointments that Silicon Motion and Phison had with their first NVMe controllers, and instead the WD Black went toe to toe with Samsung's NVMe SSDs. The WD Blue SN500 won't be setting any performance records with just a PCIe x2 interface, but it does have the opportunity to continue the impressive track record on power efficiency that Western Digital has been building.
The WD Blue SN500 may be a bit low-end by NVMe standards, but its performance specifications are still far above what SATA SSDs can provide. The SN500's write endurance rating of 0.3 DWPD over a 5-year warranty is standard for mainstream and many high-end SSDs. The current retail pricing is about 10-15% higher than the good deals on mainstream SATA SSDs of comparable capacity, so Western Digital is only charging a small premium for delivering NVMe performance. There are other DRAMless NVMe SSDs and some QLC-based NVMe SSDs on the market that are cheaper than the WD Blue SN500, so the new WD Blue has to do more than just outperform SATA in order to be competitive.
AnandTech 2018 Consumer SSD Testbed
CPU
Intel Xeon E3 1240 v5
Motherboard
ASRock Fatal1ty E3V5 Performance Gaming/OC
Chipset
Intel C232
Memory
4x 8GB G.SKILL Ripjaws DDR4-2400 CL15
Graphics
AMD Radeon HD 5450, 1920x1200@60Hz
Software
Windows 10 x64, version 1709
Linux kernel version 4.14, fio version 3.6
Spectre/Meltdown microcode and OS patches current as of May 2018