Visual Inspection
Taking a closer look at the latest ASRock Z590 OC Formula, it uses a distinct metallic yellow and black color theme throughout. It has plenty of flashy integrated RGB LEDs to make the board 'pop.' There are RGB LEDs found on numerous parts of the board, including behind an opaque panel in the top right-hand corner, around the chipset heatsink, and within the audio PCB separation line. The rear panel cover has the board designer Nick Shih's signature embossed onto it, much like a high performance sports car might have. There are also similarly styled M.2 heatsinks, and a chipset heatsink that amalgamates into the board's overall design.
One interesting thing to note is ASRock has a 12-layer PCB, whereas normally for Z590 we've been seeing a lot of 8-layer and 10-layer boards. More layers costs exponentially more, but can help with signal and noise quality. ASRock claims improve signal integrity between components and reduces PCB bending. We typically see pedigree overclocking boards such as this one, and server motherboards feature high numbers of PCB layers for improved stability and core structure for the components to be embedded on.
For cooling, the Z590 OC Formula includes a total of eight 4-pin headers. This includes one dedicated to a CPU fan, one for an optional CPU fan or water pump, and six that can be used for chassis fans or water pumps. ASRock also includes a Thunderbolt 4 AIC header which can be used with ASRock's own version, which can be purchased separately. In the bottom right-hand corner of the board is a two-digit LED debugger.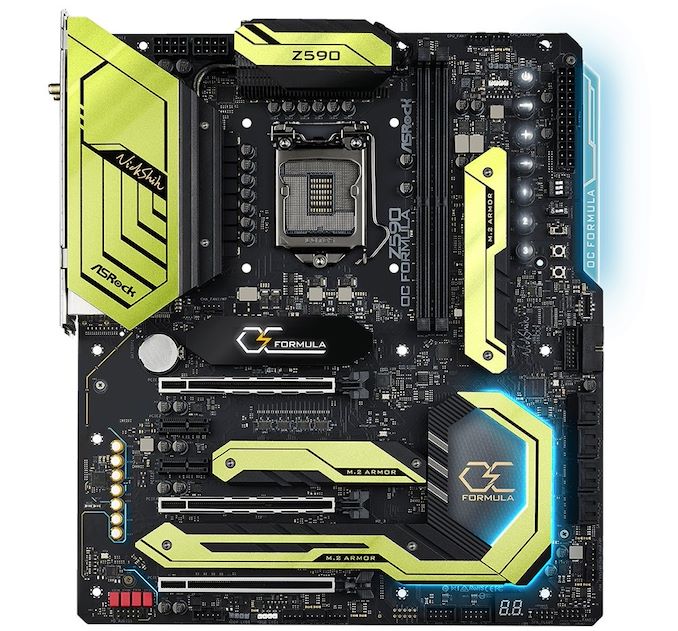 Focusing on the bottom half of the board, ASRock includes plenty of PCIe real estate, including two full-length PCIe 4.0 slots operating at both x16 and x8/x8, with a third full-length slot (bottom) electronically locked down to PCIe 3.0 x4 and two smaller PCIe 2.0 x1 slots. The OC Formula has plenty of variety for storage, which is spearheaded by one PCIe 4.0 x4 M.2 slot, designed for the fastest Gen4 NVMe drives available on the market. Also included is a pair of PCIe 3.0 x4 M.2 slots with both supporting SATA-based drives and eight SATA ports in total. Six of the SATA are powered by the chipset and, as such, support RAID 0, 1, 5, and 10 arrays. An ASMedia ASM1061 SATA controller powers the other two SATA ports.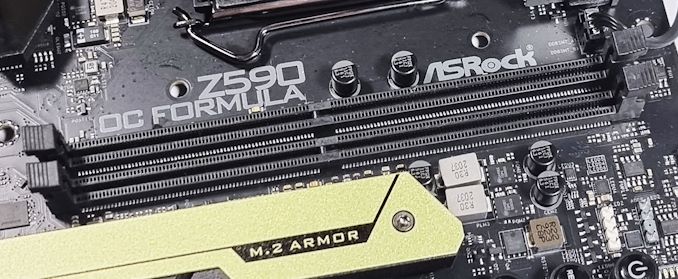 As the ASRock Z590 OC Formula is primarily designed for overclocking and breaking world records, it has just two memory slots, enabling lower latencies and/or higher transfer rates. According to ASRock, the board can support DDR4-6000 memory out of the box. Looking at the official QVL list, the highest binned memory listed is TeamGroup, with a supported speed of DDR4-5333. Both slots can also accommodate a maximum of 64 GB combined, or 32 GB sticks per slot, although the fastest memory is likely to be built on 4 GB or 8 GB modules. Both memory slots are also using an SMD DIMM slot instead of a conventional DIP style slot, which ASRock claims can reduce signal loss and improve stability with higher frequency memory.
ASRock is also using a new design for memory which it is calling 'PCB Backdrill.' ASRock's explanation on this is as follows: "Z590 OC Formula features a unique PCB Backdrill craftsmanship by removing the excess stub in multilayered printed wiring boards." ASRock also claims that this benefits extreme overclockers by allowing the signal to flow with less signal attenuation and is designed to improve impedance matching.

Located directly above the top full-length PCIe 4.0 x16 slot is an informative OLED display. The screen cycles through a list of good-looking graphics and informative material, including temperatures from different sensors such as CPU and power delivery and various voltages, CPU frequency, and even fan speed from the different headers. The list of information displayed can be edited within the firmware, although there is currently no availability to customize the graphics or upload video.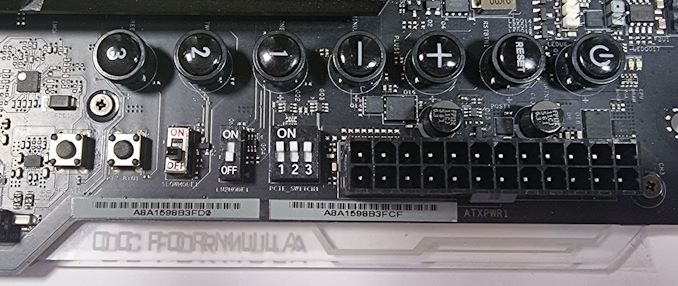 Included on the PCB is a physical overclockers toolkit with various buttons and dip-switches designed for extreme overclockers and enthusiasts. The toolkit includes a power button, a reset button, two rapid OC buttons, three Nick Shih OC profile buttons, an LN2 mode dip switch, a slow mode switch, a small OC retry button, and a small safe boot button, and three PCIe dip switches to enable/disable the slots and reduce potential instability.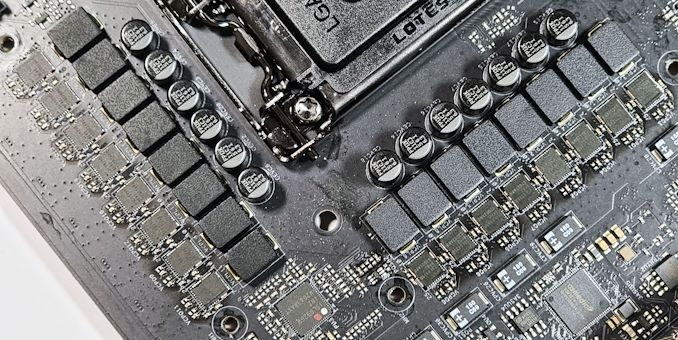 Focusing on the power delivery on the Z590 OC Formula, it uses a premium and simplistic design. Looking at the CPU section, ASRock uses sixteen Intersil ISL99390 90 A power stages operating in parallel with each other. The power delivery uses an Intersil ISL69269 PWM controller operating in 8+0 mode, as the sixteen phases for the CPU are doubled up with eight Intersil ISL6617A doublers. This gives a maximum theoretical output of up to 800 A just for the CPU.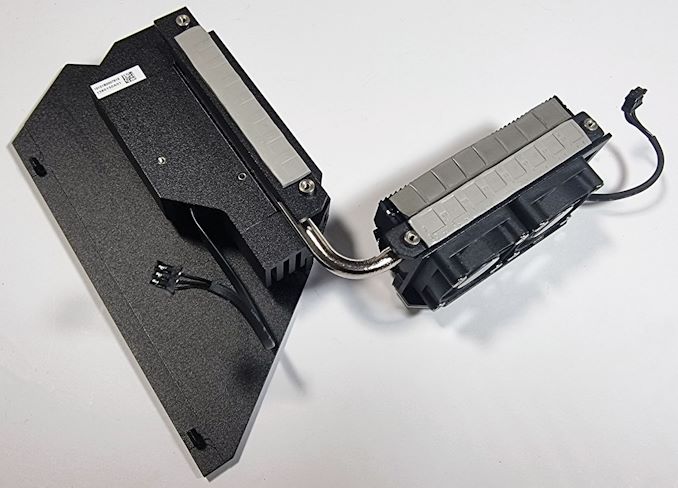 Keeping the power delivery cool is a pair of heatsinks that are interconnected by a single heat pipe. The rear panel cover itself is made from metal, and although the heatsinks themselves don't feel very weighty, there is plenty of surface area to pick up passive airflow within a chassis. ASRock also includes a pair of small MOSFET cooling fans attached to the smaller heatsink, making this an actively cooled design.

The ASRock Z590 OC Formula uses an older but still premium Realtek ALC1220 HD audio codec for onboard audio. A row of seven Japanese Gold Nichicon audio capacitors supports the onboard audio, with a bank of four red premium WIMA audio capacitors. This board does support front panel audio, and as such, it is powered by the HD audio codec and assisted by an ESS Sabre 9218 DAC.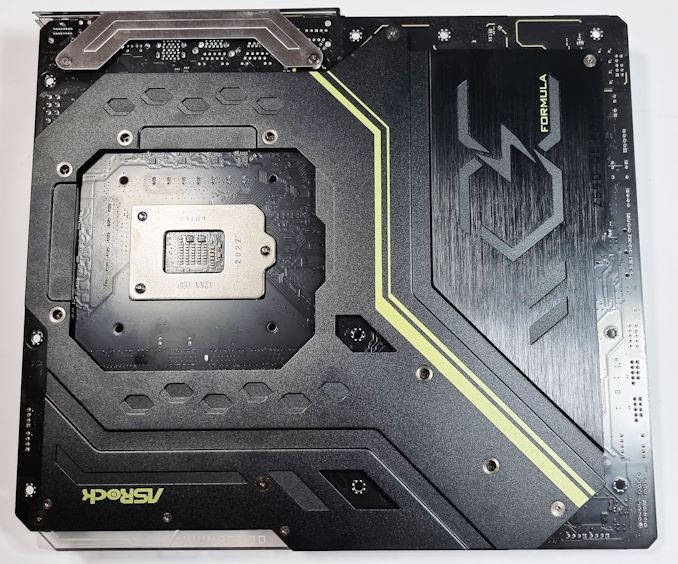 The rear of the board has a large metal backplate which adds more rigidity to the board's design. The board itself features a 12-layer PCB which adds further rigidity, and the backplate follows the core theme and design of the board.

On the rear panel is a variety of good quality input and output. Looking at rear panel USB connectivity, the OC Formula includes one USB 3.2 G2 Type-C, three USB 3.2 G2 Type-A, and four USB 3.2 G1 Type-A ports. There are five 3.5 mm audio jacks that are color-coded with matching LEDs and a S/PDIF optical output powered by a Realtek ALC1220 HD audio codec. For networking, ASRock includes a pair of Ethernet ports, one powered by an Intel I225-V 2.5 GbE controller, with an Intel I219-V Gigabit controller powering the second slot. Wireless networking is provided via an Intel AX210 Wi-Fi 6E CNVi, which supports BT 5.2 devices.
ASRock also includes a BIOS switch on the rear panel, which allows users to switch between the two onboard BIOS ROM chips, with a Clear CMOS and BIOS Flashback button pairing as well. This is the first time I can recall seeing a motherboard locate a BIOS switch selector on the rear panel, making it useful for those that have special overclocking BIOS versions without having to find the onboard jumper to select it.
What's in The Box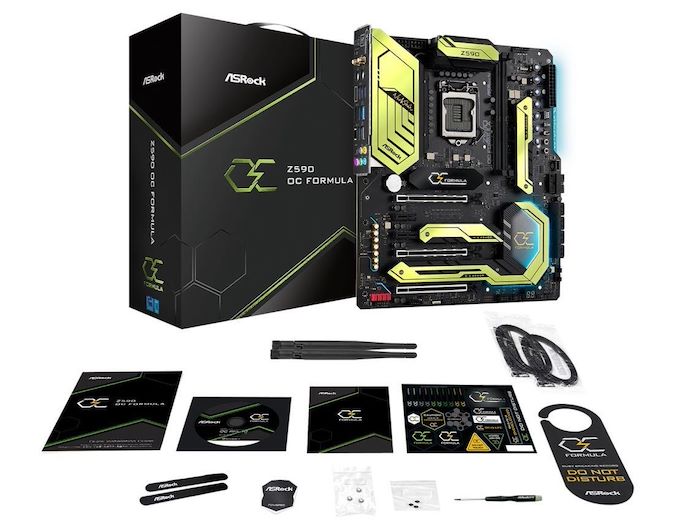 The accessories bundle includes four black SATA cables, an Intel AX210 Wi-Fi 6E antenna set; an ASRock branded screwdriver, and three M.2 screw kits and standoffs. The package includes the usual suspects, such as an installation guide, a support DVD, an OC Formula branded sticker sheet, an ASRock case badge, and some ASRock branded velcro cable ties.
Quick installation guide
Software support CD
4 x SATA cables
2 x ASRock Wi-Fi 6E antennas
3 x M.2 screws
3 x M.2 standoffs
ASRock OC Formula sticker sheet
ASRock screwdriver
ASRock case badge
ASRock OC Formula postcard
2 x ASRock velcro cable ties
ASRock OC Formula door hanger