vApus Mark I: Performance-Critical Applications Virtualized
Our vApus Mark I benchmark is not a VMmark replacement. It is meant to be complimentary: while VMmark uses runs 60 to 120 light loads, vApus Mark I runs 8 heavy VMs on 24 virtual CPUs (vCPUs). Our current vApus Stressclient is being improved to scale to much higher amount of vCPUs, but currently we limit the benchmark to 24 virtual CPUs.
A vApus Mark I tile consists of one OLTP, one OLAP and two heavy websites are combined in one tile. These are the kind of demanding applications that still got their own dedicated and natively running machine a year ago. vApus Mark I shows what will happen if you virtualize them. If you want to fully understand our benchmark methodology: vApus Mark I has been described in great detail here. We have changed only one thing compared to our original benchmarking: we used large pages as it is generally considered as a best practice (with RVI, EPT).
The current vApus Mark I uses two tiles. Per tile we have 4 VMs with 4 server applications:
A SQL Server 2008 x64 database running on Windows 2008 64-bit, stress tested by our in-house developed vApus test (4 vCPUs).
Two heavy duty MCS eFMS portals running PHP, IIS on Windows 2003 R2, stress tested by our in house developed vApus test (each 2 vCPUs).
One OLTP database, based on Oracle 10G Calling Circle benchmark of Dominic Giles (4 vCPUs).
The beauty is that vApus (stress testing software developed by the Sizing Servers Lab) uses actions made by real people (as can be seen in logs) to stress test the VMs, not some benchmarking algorithm.
Update: We have noticed that the CPU load of Magny-cours is at 70-85%, while the Six-core "Istanbul" is running at 80-95%". As we have noted before, 24 cores is at the limit of our current benchmark until we launch vApus Mark 2. We have reason to believe that the opteron 6174 has quite a bit of headroom left. The results above are not wrong, but do not show the full potential of the 6174. We are checking the CPU load numbers of the six-core Xeon X5670 as we speak. Expect an update in the coming days.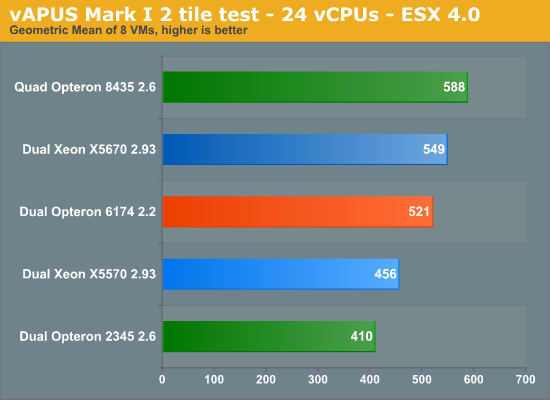 The AMD Opteron 6174 performs well here, but disappoints a bit at the same time. vApus Mark I does not scale as well as VMmark. The reason is simple: as we used 4 virtual CPUs for both the OLTP as the OLAP virtual machine, scaling depends more on the individual applications. One VM with 4 virtual CPUs will not scale as well as 16 VMs sharing the same 4 virtual CPUs. Also, we use heavy database applications that typically like a decent amount of cache. The difference with the Xeon X5670 is small though. Servers based on both CPUs will make excellent virtualization platforms.
Next, the same test with Hyper-V, the hypervisor beneath Windows 2008 R2. We are testing with Hyper-V R2 6.1.7600.16385 (21st of July 2009).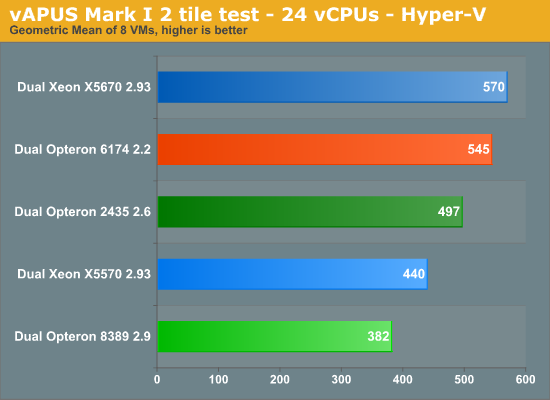 Based on the excellent results of the Dual Opteron 2435 we expected AMD to take the crown in this benchmark, but that did not happen. We only had one week to get all of the Opteron testing done (AMD didn't have any hardware until the last minute), so we could not analyze this in depth. For some reason, the Opteron 6174 does not scale very well in our vApus benchmark. Compared to a 2.2GHz six-core, we only see a 30% increase in performance, about the same as Intel gets out of adding 2 extra cores to their Xeon. Part of the reason might be our benchmark: at the moment we are limited to 24 CPUs. We'll investigate this in more detail in the coming quarter when vApus v2 is available.
The difference with the Xeon X5670 is small though, and the slightly lower price of the Opteron makes up for the slightly lower performance.