Technology Brief
The technology behind the Monsoon speakers isn't anything new, but Monsoon/Sonigistix just claim they're the first to use mass production techniques to bring it to market at an affordable price. The concept is actually very different from the path chosen by Benwin/NXT. This time, it's called Planar Focus and sound is generated as a thin mylar membrane vibrates in a special enclosure. Instead of aiming for an enlarged sweet spot and room filling sound from small speakers, like the Benwin/NXT setup, Planar Focus is designed to produce very directional sound.
The reasoning behind this is that such directional sound will minimize reflections from the desktop, monitor, and anything else providing optimal sound for 3D sound from two speakers, such as Aureal's A3D. At the same time, sound will, at least in theory, be extremely crisp and powerful - crisp due to the lack of reflections and powerful due to increased efficiency since a heavy cone and magnet need not be moved. Instead of a large sweet spot, the goal is for a very fixed one that should be fine for a single computer user with the speakers correctly positioned. Trying to use Planar Focus to produce music for a room full of people just won't work very well.
One of the biggest problems in generating 3D positional audio from two speakers is cross talk from the speakers where you're left ear hears what's coming from the right speaker and vice versa. Clearly such a directional speaker will help prevent this to a degree, and of course 3D sound algorithms attempt to do the same.
Design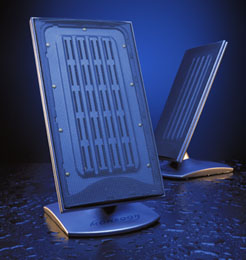 The Monsoon MM-1000 consist of two flat panel satellites augmented by a traditional subwoofer. The satellites are composed of a 4" x 8" planar magnetic panel with a metal grill protecting it from the front and rear. A heavy, solid feeling plastic and metal base supports the satellites and aims them at a nonadjustable 30 degree angle. The sub uses a front firing 5.25" paper cone in a fairly large (for a multimedia system) 8 liter MDF (medium density fiberboard) enclosure that's ported out the back. The sub is unfortunately not shielded, so you won't want to place it next to your monitor. Frequency response is 50 Hz - 20 kHz with a active, third order crossover at a fairly high 200 Hz. The Bass boost button provides a 6 dB boost at 55 Hz. The system is all backed up by 12.5W of power to each satellite and 25W to the sub with less than 1% THD (total harmonic distortion).
That amp, along with all connections, is integrated into the back of the sub. Approximately 10 feet of standard speaker wire is permanently attached to the satellites and connects to the sub via traditional push button terminals. Power is provided by an external AC adapter that, fortunately, will not block any plugs on your surge protector thanks to separate cords to the wall outlet and sub. All controls are on the sub and are very straight forward - no "3D audio enhancement" gimmicks here, just traditional system volume, bass level, and bass boost. A green LED indicates power and a red LED lights when bass boost is turned on. There is no power button.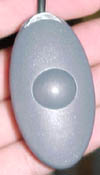 A convenient remote volume "puck" (as Monsoon likes to call it) is included with a volume dial and mute button and allows for system control without reaching down to the sub - that is when it works properly. In two systems received by AnandTech, the remote volume feature wasn't exactly 100% reliable and that caused strange, unexpected volume changes. The problem appeared to be a weak connection between the puck and the sub as the situation could often be helped or worsened by playing with this connection. Fortunately, removing the puck completely removed such problems. It should also be noted that when the puck is plugged in, the sub's system volume control is completely disabled. While on the subject of volume and notes, it should also be pointed out that the system could not be muted completely regardless of whether the puck volume, puck mute, or sub system volume controls were used.