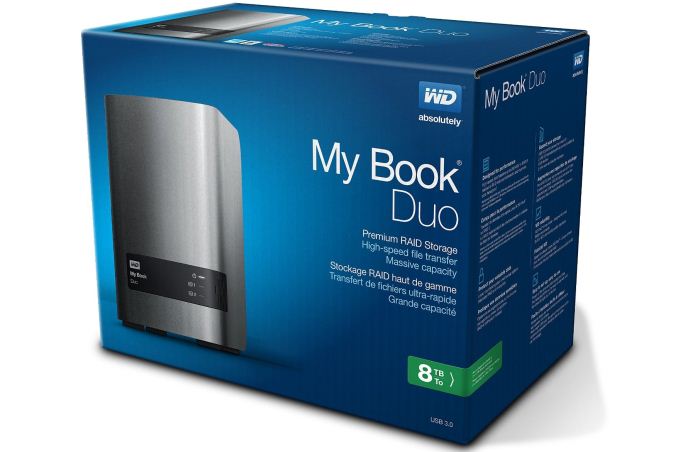 Introduction
Even as the consumer NAS market continues to experience rapid growth, it is impossible for consumers to have really fast access to data when the storage is bottlenecked by the speed of their network link. Single hard disks, by themselves, can hardly saturate today's high-speed direct-attached storage (DAS) interfaces such as eSATA, USB 3.0 and Thunderbolt. Users needing fast transfer rates (while maintaining the higher cost-effective capacities that hard disks provide) need to go in for RAID solutions. These tend to perform well for certain common workloads such as multimedia handling.
Earlier this week, we took a look at LaCie's high end 2-bay RAID DAS, the 2big Thunderbolt 2. It integrated both USB 3.0 and Thunderbolt 2 as connectivity options. At $800 for a 8 TB version, the pricing carries a premium for the Thunderbolt connectivity. USB 3.0 is, in a way, the poor man's Thunderbolt. With a focus on the average consumer, Western Digital launched the My Book Duo USB 3.0 DAS with hardware RAID capabilities a few weeks back. We got the 8 TB version in for review. The detailed specifications of the unit are provided below.
Western Digital My Book Duo

WDBLWE0080JCH

Internal Storage Media
2x 4 TB 3.5" WD40EFRX Red Hard Drives
Interface
1x USB 3.0 + 2x USB 3.0 (Downstream Hub)
RAID Modes
RAID 0 / RAID 1 / JBOD
Cooling
Fan behind the front face at the base of the unit
Power Supply
100-240V AC Switching Adapter (12V @ 3A DC)
Dimensions
165 x 157 x 99 mm | 6.5 x 6.2 x 3.9 in.
Weight
2.24 kg | 5.0 lbs.
Included Software

Acronis True Image WD Edition
WD SmartWare Pro
WD Drive Utilities / WD Security

Product Page
Western Digital My Book Duo
Price
$450
Testbed Setup and Testing Methodology
Evaluation of DAS units on Windows is done with the testbed outlined in the table below. For devices with USB 3.0 connections (such as the My Book Duo that we are considering today), we utilize the USB 3.0 port directly hanging off the PCH.
AnandTech DAS Testbed Configuration
Motherboard
Asus Z97-PRO Wi-Fi ac ATX
CPU
Intel Core i7-4790
Memory
Corsair Vengeance Pro CMY32GX3M4A2133C11
32 GB (4x 8GB)
DDR3-2133 @ 11-11-11-27
OS Drive
Seagate 600 Pro 400 GB
Optical Drive
Asus BW-16D1HT 16x Blu-ray Write (w/ M-Disc Support)
Add-on Card
Asus Thunderbolt EX II
Chassis
Corsair Air 540
PSU
Corsair AX760i 760 W
OS
Windows 8.1 Pro
Thanks to Asus and Corsair for the build components
Full details of the reasons behind choosing the various components in the above build, as well as the details of our DAS test suite can be found here.