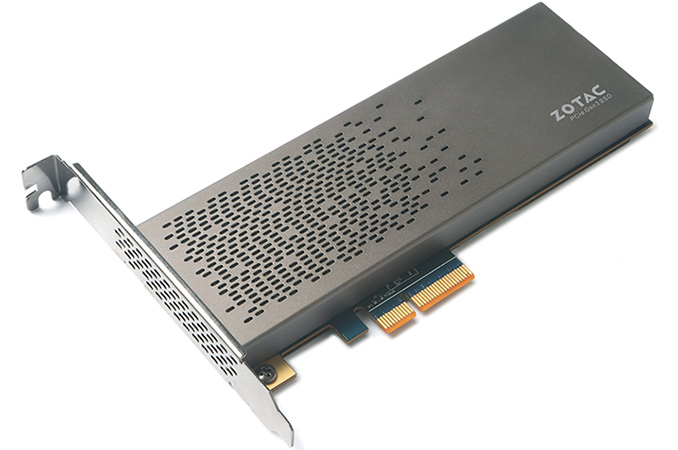 ZOTAC has formally announced its PCIe SONIX SSD, which was first demonstrated at CES earlier this year. Confirming the final specifications and design, the company said that the new drive would be available in the middle of this month at a price-point comparable to that of other PCIe-based SSDs. The availability of the ZOTAC SONIX will mark the arrival of a new breed of high-performance PCIe SSDs based on the Phison PS5007-E7 controller.
The final version of the ZOTAC SONIX will be faster than the preliminary version of the SSD demonstrated at CES, with the shipping version rated for sequential read performance of 2600 MB/s and sequential write performance of up to 1300 MB/s. The initial flavor of the ZOTAC SONIX SSD will offer 480 GB capacity, will be equipped with 512 MB of DDR3 DRAM cache and will come in half-length half-height PCI Express 3.0 x4 card form-factor. The drive will consume 5.57W when performing read operations, 7.27W while writing and 0.5W in idle mode, according to the supplier.
ZOTAC SONIX PCIe SSD Specifications
480 GB
Controller
Phison PS5007-E7
NAND
Toshiba MLC
DRAM Cache
512 MB DDR3 SDRAM
Sequential Read
2600 MB/s
Sequential Write
1300 MB/s
Active Power (Read/Write)
5.57 W/7.27 W
Idle Power
0.5 W
Encryption
AES-256
MTBF
2,000,000 hours
Interface and Form-Factor
PCIe 3.0 x4 HHHL card
The ZOTAC SONIX SSD will be among the first solid-state drives to use Phison's PS5007-E7 controller demonstrated in mid-2015. The chip fully supports NVMe 1.2 protocol, error correction with 120-bit/2KB BCH code, NVMe L1.2 power saving mode, end-to-end data path protection, advanced global wear-leveling, an AES-256 engine and so on. The PS5007-E7 has eight NAND flash transfer channels and can perform up to 300K random read IOPS (input/output operations per second) as well as 200K random write IOPS. As we reported back in January, the PS5007-E7 had been finalized and the final firmware was due in February.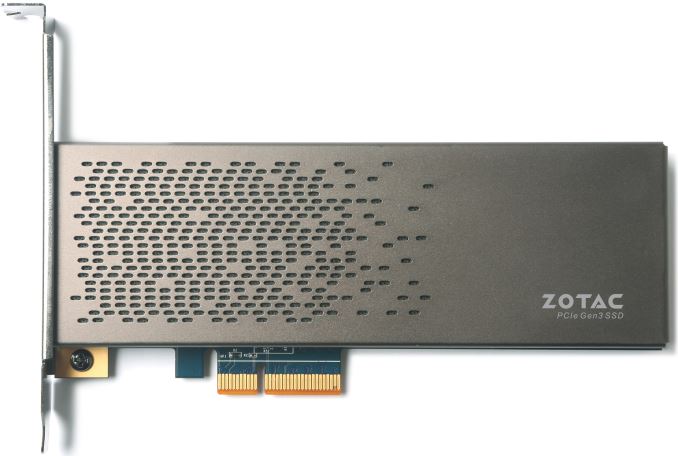 As expected, the ZOTAC SONIX drive will use Toshiba's multi-level cell (MLC) NAND flash memory and will be positioned as ZOTAC's premium offering. The product will hit the market in mid-March at the price of $369.99, which is comparable to that of Kingston's HyperX Predator M.2 480 GB SSD ($364.99) as well as Samsung's 950 Pro M.2 512 GB SSD ($327.99).
It should be noted that Phison not only develops controllers, but sells packages consisting of a controller, NAND flash memory, firmware and even production services. The majority of Phison-based SSDs are made by a contract manufacturer under supervision of the controller developer. While the approach somewhat constraints innovation of SSD suppliers because drives based on the same Phison controller offer similar feature-set and performance, it also guarantees relatively high quality, competitive pricing and broad availability.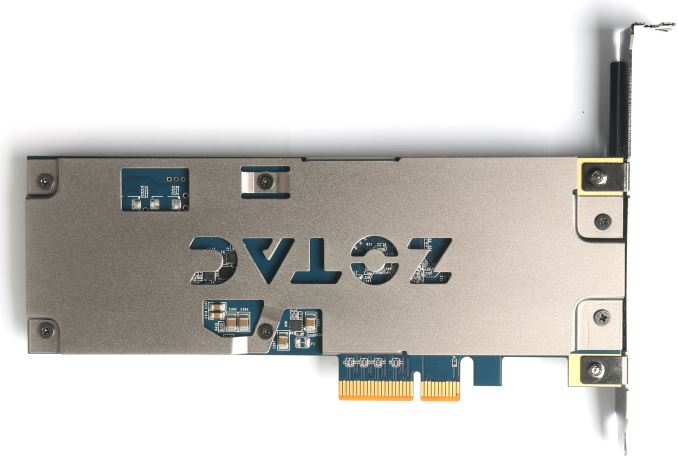 If ZOTAC starts to ship its SONIX PCIe SSD in mid-March, other partners of Phison, including Corsair, Kingston, Mushkin, Patriot, PNY and other will likely follow shortly. As a result, the market should have a significant number of PCIe 3.0 x4 and M.2 SSDs with up to 2600 MB/s sequential read performance based on MLC NAND memory. Competition between various suppliers will naturally affect prices of actual products, which is good for the end-user. Keeping in mind that Samsung's 950 Pro M.2 512 GB SSD already costs $328, it looks like prices of high-end PCIe NVMe SSDs this year will get very competitive. Moreover, when and if new SSDs based on SandForce's SF3500 controller arrive, things will get even more intense.
Source: ZOTAC