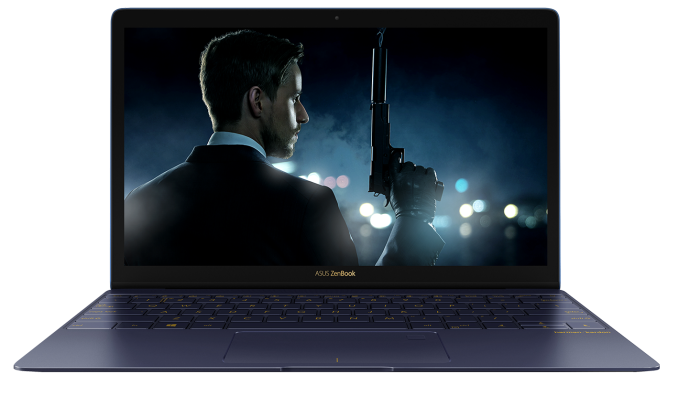 Computex is already a whirlwind of announcements even for day zero. At the ASUS Zenvolution press event today, the lid was lifted on the next generation of premium ASUS Zenbook: the Zenbook 3. No release date was placed, but the specification list and feature set puts it squarely in line to compete against very popular notebooks, albeit on the premium side.
The Zenbook 3 comes in at 11.9mm thin, weighing 910g, and gives a 12.5-inch display at a 1920x1080 resolution using a thin bezel display. This is similar to the XPS 13 (I'd give a nod more to the XPS 13, but it's pretty close), but uses an aerospace grade aluminium body design similar to a Macbook but featuring a full Core i7-6500U with 16GB of LPDDR3-2133 memory. The use of a 15W Skylake-U processor means that the memory is limited to LPDDR3 rather than DDR4, which means 1.35V rather than 1.2V, but the faster 2133 MT/s memory should assist in a good number of daily tasks reliant on memory speed, such as gaming.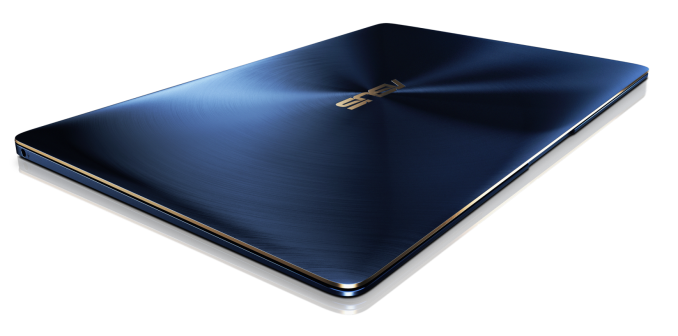 Storage options run up to 1TB of PCIe 3.0 SSDs (we're double checking if these are NVMe, or SM951s), however the peak bandwidth is limited to 1700 MB/s sequential reads similar to the how Ganesh found the Intel Skylake NUCs SSD limitations – in this case the On Package Interconnect between the CPU and the integrated chipset is limited to PCIe 2.0 (though it's worth noting that sustained writes are difficult to get above 1600 MB/s anyway).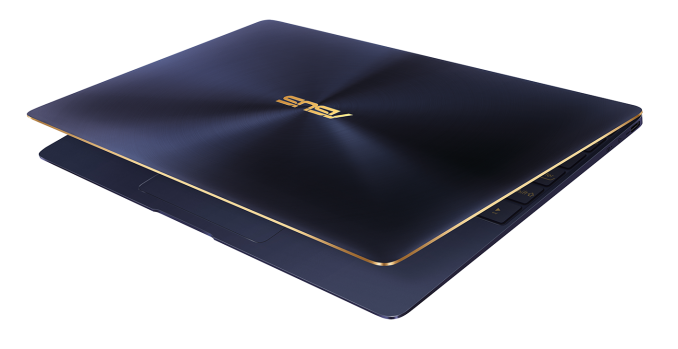 The device will have a sole USB 3.0 Type-C port which will allow for charging and IO connectors which sounds like a Macbook, but as a difference ASUS has engineered the keyboard to allow for 0.8mm of key travel, compared to 0.4mm of the Macbook. The Zenbook 3 will have a 40 Wh battery, which ASUS rates for 9 hours of battery life but offers Quick Charge 3 which was presented as offering 60% battery charge in 49 minutes.
Other features in the mix include fingerprint login through the touchpad, a harmon/kardon enhanced audio system, Corning Gorilla Glass 4 display and the colors offered will extend to Royal Blue, Rose Gold and Quartz Grey.

ASUS Zenbook 3
CPUs
Intel Core i7-6500U (2C/4T, 2.5-3.1 GHz, 15W, Intel HD 520)
Intel Core i5-6200U (2C/4T, 2.3-2.8 GHz, 15W, Intel HD 520)
DRAM
16GB LPDDR3-2133 (with i7)
4GB LPDDR3-1866 (with i5)
Display
12.5-inch 1920x1080 Slim Bezel Display


Gorilla Glass 4

178-degree viewing angles
Storage
256 GB SSD (with i5)
512 GB PCIe 3.0 x4 SSD
1TB PCIe 3.0 x4 SSD
I/O Ports
1 x USB 3.0 Type-C
Dimensions
296 x 191.2 x 11.9 mm
Weight
910g
Battery
40 Wh
Other Features
harmon/kardon audio
ASUS SonicMaster audio
Pricing
$999
Core i5-6200U
4GB LPDDR3-1866
256GB SSD
$1499
Core i7-6500U
16GB LPDDR3-1866
512GB PCIe 3.0 x4 SSD
$1999
Core i7-6500U
16GB LPDDR3-1866
1TB PCIe 3.0 x4 SSD
One of ASUS' issues here will be that their Zenbook UX305 line, at $700, represents a nice product for most of their intended customers. The Zenbook 3 is supposed to be the stylish alternative, that also gets a significant specification boost for users that need the power. At the show, ASUS showed three different models and their price points:
Intel Core i5-6200U, 4GB LPDDR3-1866, 256GB SSD: $999
Intel Core i7-6500U, 16GB LPDDR3-2133, 512GB PCIe SSD: $1499
Intel Core i7-6500U, 16GB LPDDR3-2133, 1TB PCIe SSD: $1999
The entry point is aimed at users who want the style but do not need much machine – the DRAM is severely cut back, and the SSD moves down to a SATA based M.2 SSD. The Core i7 models, from $1499-$1999, means that to get the power it can get expensive, bridging the cost between the cheaper Macbooks using Core M, the Dell XPS 13, and the more powerful Core i-based notebooks moving into higher power processors. The $1999 unit comes across as a lot, especially as an upgrade over the $1499 unit (because $500 for 500GB of PCIe SSD is a bit steep), however ASUS is hoping that the style will sell.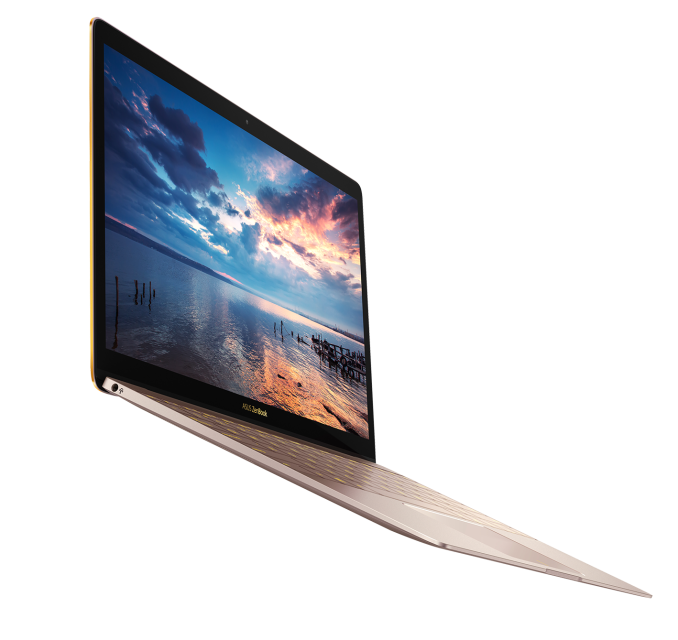 Personally, I run a self-purchased Zenbook Infinity (Haswell i7) that is showing its age and it actually ran out of power during the ASUS Zen press event (my 3rd of the day). On some level I think the drive to thin and light and powerful can detract from what power users might need: if ASUS makes a Zenbook 3 like device with a separate sheet battery to make it 90 Wh, I might be interested.
Some users might state that a Core i-series based device and a Macbook are in two different product categories. However, during ASUS' presentation, it was constantly compared to the Macbook, and the low end price of the base model is certainly encroaching into Macbook territory. The most expensive Macbook comes with 512GB of PCIe storage and 8GB of memory for $1599 - ASUS' Zenbook 3 will give you the same storage, double the memory, ever so slightly lighter, and a full Core i7 for $100 less, although battery life is an hour in the Macbook's favor.
ASUS didn't specify release dates, and I was told that exact US pricing is yet to be finalized, but we should expect sampling during the second half of the year. When we visit the ASUS Computex booth tomorrow, we should get a chance to see the device up close.