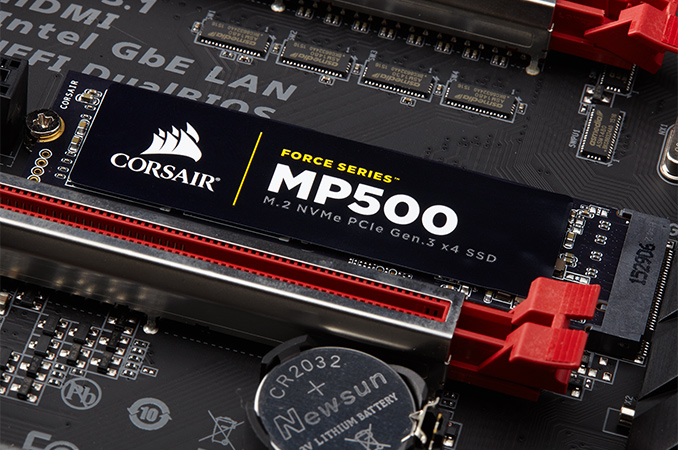 Corsair on Tuesday introduced its flagship Force MP500 lineup of SSDs targeting high-performance gaming PCs. The new drives come in an M.2-2280 form-factor with a PCIe 3.0 x4 interface and can offer maximum sequential read speeds of up to 3 GB/s. It is important to note that the Force MP500 SSDs use planar MLC NAND memory, which is becoming increasingly rare these days.

Following its SSD strategy, Corsair uses Phison's platforms featuring Toshiba's NAND to build its drives, which is why the Force MP500 family is powered by the PS5007-E7 controller as well as MLC NAND memory made using a 15 nm fabrication process. The Corsair Force MP500-series SSDs are the company's first high-performance drives that come in M.2-2280 form-factor with PCIe 3.0 x4 interface. Besides, the new SSDs are also among the first commercial products to use the PS5007-E7 chip (after Patriot's Hellfire and ZOTAC's Sonix), which supports error correction with 120-bit/2KB BCH code, NVMe L1.2 power saving mode, end-to-end data path protection, advanced global wear-leveling, an AES-256 engine and so on. Phison usually allows its customers to adjust firmware of actual products, but we do not know whether Corsair implemented any enhancements to differentiate its drives from competing offerings that are already available or set to emerge from other suppliers. What we do know is that the company is working on a new firmware which will enable AES-256 encryption on the Force MP500 SSDs. Corsair hopes to release the new firmware in Q1 2017.

The Corsair Force MP500 family of SSDs consists of models with 120 GB, 240 GB and 480 GB capacity. From a performance point of view, Corsair's Force MP500-series SSDs belong to the higher end segment of the market with rated sequential read speed of up to 3000 MB/s and sequential write performance of up to 2400 MB/s. The 240 and 480 GB versions of the Force MP500 can perform up to 250K random read IOPS (input/output operations per second) as well as 210K random write IOPS. Meanwhile the entry-level 120 GB model is placed for slightly lower random read/write performance of 150K/210K. Of course, only real-world testing will reveal the true potential of the Force MP500, but on paper the performance of Corsair's first M.2 SSDs looks very promising: it is higher when compared to that Samsung's 960 EVO, but it is not as fast as that of Samsung's flagship 960 PRO.
Corsair Force MP500 Series Specifications

CSSD-F120GBMP500

CSSD-F240GBMP500

CSSD-F480GBMP500

Capacities
120 GB
240 GB
480 GB
Form Factor
M.2-2280
Interface
PCIe 3.0 x4 (NVMe 1.2)
Controller
Phison PS5007-E7
NAND
Toshiba's 128 Gb MLC
15 nm process technology
DRAM
128 MB
256 MB
512 MB
Sequential Read
3000 MB/s
Sequential Write
2400 MB/s
Random Read (4 KB) IOPS
150K
250K
Random Write (4 KB) IOPS
90K
210K
Power
DEVSLP
4 mW
Operating
5 ~ 7 W (?)
Endurance
175 TBW
349 TBW
698 TBW
Encryption
AES-256 firmware due in Q1.
Warranty
Three years
Price
$124.99
$189.99
$364.99
The Corsair Force MP500-series SSDs are available now from the company's own online store as well as from its retail partners. Being high-end SSDs, the new drives are priced accordingly. The entry-level 120 GB model costs $124.99, the 240 GB version is priced at $189.99 and the top-of-the-range 480 GB model has a $364.99 price tag. All the drives come with Corsair's three-year warranty.
It is noteworthy that so far only Corsair, Patriot and ZOTAC have started selling SSDs based on the Phison PS5007-E7 platform. By contrast, other traditional partners of the company, such as Kingston, Mushkin, PNY, etc. are yet have to initiate sales of their PCIe 3.0 x4 Phison E7-based products.
Related Reading:
Source: Corsair