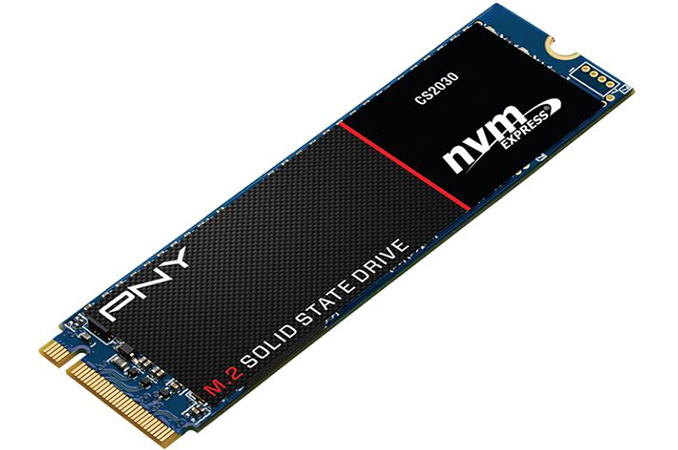 PNY has introduced its new CS2030 lineup of higher-end SSDs designed for desktops and laptops with M.2-2280 slots. The new drives are based on Phison's PS5007-E7 controller for PCIe 3.0 x4 SSDs as well as Toshiba's MLC NAND memory made using 15 nm process technology. The PNY CS2030 are already available in 240 GB and 480 GB configurations.
Like many other companies, PNY does not develop SSDs from the ground up, but uses Phison's turnkey platforms featuring Toshiba's NAND flash memory to build its drives, which is why it is not surprising that the PNY CS2030 has a lot in common with other products powered by the PS5007-E7 controller in terms of capabilities (NVMe L1.2 power saving mode, 120-bit/2KB BCH code, end-to-end data path protection, advanced global wear-leveling, etc.). Meanwhile, this does not mean that PNY cannot differentiate from the others by tweaking firmware (or just buying an appropriate firmware from Phison). Apparently, the company opted to lower sequential reads and writes compared to some of the direct rivals (2800 MB/s vs 3000 MB/s, 1550 MB/s vs 2400 MB/s) in a bid to improve random write performance of the PNY CS2030 (up to a rated 300K IOPS).

PNY's CS2030 family currently consists of 240 GB and 480 GB drives because such capacities are the most popular among customers today. Nonetheless, the company has demonstrated pictures of boxes for 120 GB versions of the CS2030 SSDs, which may indicate that the company is either finalizing the specs of the drives, or plans to sell them exclusively to OEM customers (and/or in certain regions only). As for performance, the PNY CS2030 480 GB has rated sequential read speed of up to 2800 MB/s and sequential write performance of up to 1500 MB/s. The same model of the drive can perform up to 300K random read IOPS (input/output operations per second) as well as 270K random write IOPS. Meanwhile the 240 GB version is rated slightly slower than the top-of-the-range model (see the table for details).
PNY CS2030 Series Specifications
M280CS2030-120-RB
M280CS2030-240-RB
M280CS2030-480-RB
Capacities
120 GB
240 GB
480 GB
Form Factor
M.2-2280
Interface
PCIe 3.0 x4 (NVMe 1.2)
Controller
Phison PS5007-E7
NAND
Toshiba's 128 Gb MLC
15 nm process technology
DRAM
128 MB (?)
256 MB (?)
512 MB (?)
Sequential Read
unknown
2750 MB/s
2800 MB/s
Sequential Write
unknown
1500 MB/s
1550 MB/s
Random Read (4 KB) IOPS
unknown
201K
300K
Random Write (4 KB) IOPS
unknown
215K
270K
Power
DEVSLP
4 mW (?)
Operating
5 ~ 7 W (?)
MTBG
2 million hours
Encryption
AES-256 is supported by the controller.
Current status of support by the PNY CS2030 is unknown.
Warranty
Three years
Price
unknown
$179.99
$329.99
At present, PNY sells its CS2030 in 240 GB and 480 GB configurations for $179.99 and $329.99, respectively, which is in line with prices of some other Phison E7-based SSDs. All PNY's SSDs come with a three-year warranty.
Related Reading:
Source: PNY