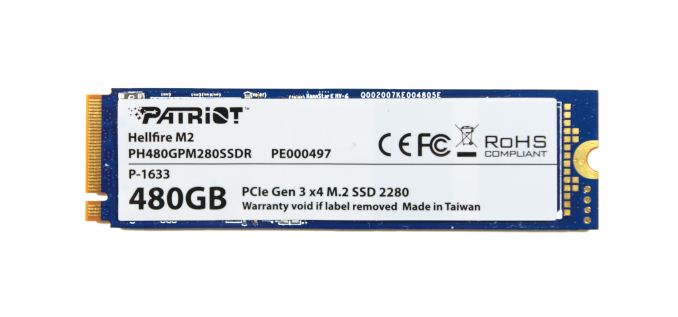 The Patriot Hellfire M.2 PCIe SSD is Patriot's first NVMe SSD, and one of several similar products based on Phison's E7 NVMe controller. As usual for Phison, the same drive is manufactured for many of their partners, who typically customize only the branding. Phison designs the controller, firmware, and PCB, but leaves the marketing up to their partners.
Phison's PS5007-E7 controller is their first NVMe SSD controller, supporting a PCIe 3.0 x4 host interface and 8 channels for NAND access. The details we have on the E7 are a bit slim - some collection of ARM cores under the hood is a safe bet, but that's it - however we do know that the E7 controller is manufactured on TSMC's 28nm process and uses FCBGA packaging. Interestingly, it doesn't use the kind of large heatspreader we've seen on competing controllers like Silicon Motion's SM2260. Phison had the E7 platform hardware ready over a year ago, but retail releases were held back by the poor performance of early firmware. Patriot first began shipping the Hellfire last fall, but even after that much delay, they ended up issuing a firmware update shortly after launch.

Phison's controllers are almost always paired with Toshiba's NAND flash, and the Patriot Hellfire uses Toshiba's 15nm MLC. Our review sample is the 480 GB version, the most common capacity for E7 SSD. Patriot also sells a 240 GB version, and some of their competitors offer the 120GB version as well.
Patriot Hellfire Specifications Comparison
240 GB
480 GB
Form Factor
M.2 2280
Controller
Phison PS5007-E7
Interface
NVMe PCIe 3.0 x4
DRAM
256MB DDR3L
512MB DDR3L
NAND
Toshiba 15nm MLC
Sequential Read (CDM)
2740 MB/s
2550 MB/s
Sequential Write
1090 MB/s
1260 MB/s
4KB Random Read (QD32)
170k IOPS
170k IOPS
4KB Random Write (QD32)
185k IOPS
210k IOPS
Warranty
3 years
MSRP
$130 (54¢/GB)
$230 (48¢/GB)
The Phison E7 controller was originally intended to be a high-end NVMe controller for client or enterprise use. By the time it was ready for the market, Samsung had raised the bar far too high for the E7 to still be considered high-end. But Phison E7-based SSDs like the Patriot Hellfire have been able to offer very attractive pricing and are usually the cheapest MLC-based NVMe SSDs available. Without the pitfalls of TLC-based SSDs like the Intel SSD 600p and the Samsung 960 EVO, the Patriot Hellfire and its relatives have been attractive entry-level PCIe SSD options.
Aside from other Phison E7 SSDs, the closest competition for the Patriot Hellfire is the Plextor M8Pe, based on the same Toshiba 15nm MLC NAND but using the Marvell 88SS1093 controller with Plextor's own firmware. The Patriot Hellfire also has to justify its higher price relative to the Intel SSD 600p, the most affordable NVMe SSD, and against high-performing SATA SSDs like Samsung's 850 EVO and 850 PRO.