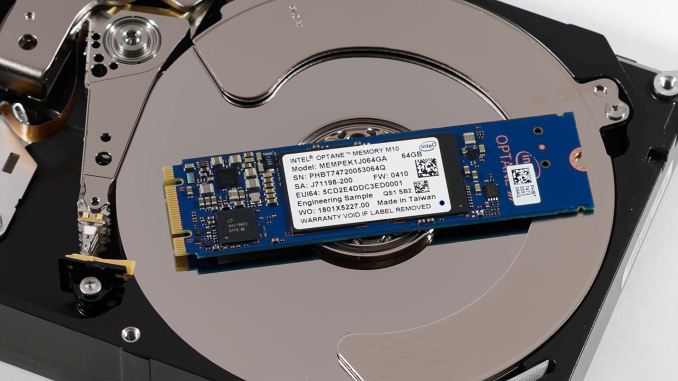 Intel is introducing their second generation of Optane Memory products: these are low-capacity M.2 NVMe SSDs with 3D XPoint memory that are intended for use as cache devices to improve performance of systems using hard drives. The new Optane Memory M10 brings a 64GB capacity to the product line that launched a year ago with 16GB and 32GB options.
The complete Optane Memory caching solution consists of an M.2 SSD plus Intel's drivers for caching on Windows, and firmware support on recent motherboards for booting from a cached volume. Intel launched Optane Memory with its Kaby Lake generation of processors and chipsets, and this generation is intended to complement Coffee Lake systems. However, all of the new functionality works just as well on existing Kaby Lake systems as with Coffee Lake.
The major new user-visible feature for this generation of Optane Memory caching is the addition of the ability to cache a secondary data drive, whereas previously only boot drives were possible. Intel refers to this mode as "data drive acceleration", compared to the system acceleration (boot drive) that was the only mode supported by the first generation of Optane Memory. Data drive acceleration has been added solely through changes to the Optane Memory drivers for Windows, and this feature was actually quietly rolled out with version 16 of Intel's RST drivers back in February.
Also earlier this year, Intel launched the Optane SSD 800P family as the low-end alternative to the flagship Optane SSD 900P. The 800P and the new Optane Memory M10 are based on the same hardware and an updated revision of the original Optane Memory M.2 modules. The M10 and the 800P use the same controller and the same firmware. The 800P is usable as a cache device with the Optane Memory software, and the Optane Memory M10 and its predecessor are usable as plain NVMe SSDs without caching software. The 800P and the M10 differ only in branding and intended use; the drive branded as the 58GB 800P is functionally identical to the 64GB M10 and both have the exact same usable capacity of 58,977,157,120 bytes.
Everything said about the 58GB Optane SSD 800P in our review of the 800P family applies equally to the 64GB Optane Memory M10. Intel hasn't actually posted official specs for the M10, so we'll just repeat the 800P specs here:
Intel Optane SSD Specifications
Model
Optane SSD 800P
Optane Memory
Capacity
118 GB
58 GB
M10 (64 GB)
32 GB
16 GB
Form Factor
M.2 2280 B+M key
M.2 2280 B+M key
Interface
PCIe 3.0 x2
PCIe 3.0 x2
Protocol
NVMe 1.1
NVMe 1.1
Controller
Intel
Intel
Memory
128Gb 20nm Intel 3D XPoint
128Gb 20nm Intel 3D XPoint
Sequential Read
1450 MB/s
1350 MB/s
900 MB/s
Sequential Write
640 MB/s
290 MB/s
145 MB/s
Random Read
250k IOPS
240k IOPS
190k IOPS
Random Write
140k IOPS
65k IOPS
35k IOPS
Read Latency
6.75 µs
7 µs
8 µs
Write Latency
18µs
18µs
30 µs
Active Power
3.75 W
3.5 W
3.5 W
Idle Power
8 mW
8 mW
1 W
1 W
Endurance
365 TB
365 TB
182.5 TB
182.5 TB
Warranty
5 years
5 years
Launch Date
March 2018
April 2017
Launch MSRP
$199
800P: $129
M10: $144
$77
$44
Rather than cover exactly the same territory as our review of the 800P, this review is specifically focused on use of the Optane Memory M10 as a cache drive in front of a mechanical hard drive. Thanks to the addition of the data drive acceleration functionality, we can use much more of our usual benchmark suite for this than we could with last year's Optane Memory review. The data drive acceleration mode also broadens the potential market for Optane Memory, to include users who want to use a NAND flash-based SSD as their primary storage device but also need a more affordable bulk storage drive. The combination of a 64GB Optane Memory M10 (at MSRP) and a 1TB 7200RPM hard drive is about the same price as a 1TB SATA SSD with 3D TLC NAND, and at higher capacities the combination of a hard drive plus Optane Memory is much cheaper than a SATA SSD.
Intel's Optane Memory system works as an inclusive cache: adding an Optane Memory cache to a system does not increase the usable storage capacity, it just improves performance. Data written to the cache will also be written to the backing device, but applications don't have to wait for the data to land on both devices.
Once enabled, there is no need or option for manual tuning of cache behavior. The operation of the cache system is almost entirely opaque to the user. After an unclean shutdown, there is a bit of diagnostic information visible as the cache state is reconstructed, but this process usually seems to only take a second or two before the OS continues to load.
Test Systems
Intel's Optane Memory caching drivers require a Kaby Lake or newer processor and chipset, but our primary consumer SSD testbed is still a Skylake-based machine. For last year's Optane Memory review, Intel delivered the 32GB module pre-installed in a Kaby Lake desktop. This time around, Intel provided a Coffee Lake system. Both of those systems have been used for tests in this review, and a few benchmarks of drives in a non-caching role have been performed on our usual SSD testbed.
AnandTech 2017/2018 Consumer SSD Testbed
CPU
Intel Xeon E3 1240 v5
Motherboard
ASRock Fatal1ty E3V5 Performance Gaming/OC
Chipset
Intel C232
Memory
4x 8GB G.SKILL Ripjaws DDR4-2400 CL15
Graphics
AMD Radeon HD 5450, 1920x1200@60Hz
Software
Windows 10 x64, version 1709
Linux kernel version 4.14, fio version 3.1