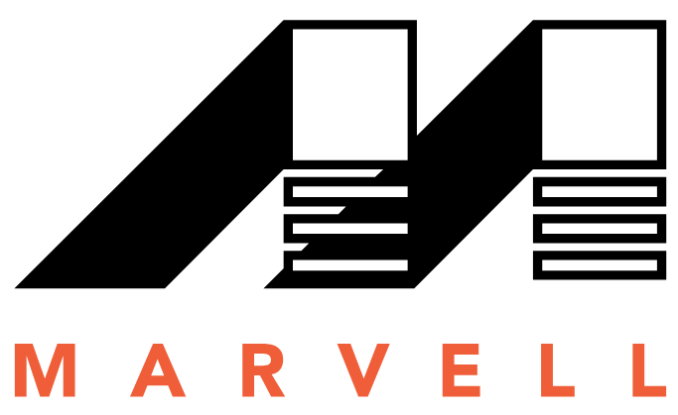 Following up from their recent announcement of a new generation of NVMe SSD controllers for enterprise drives, Marvell is announcing a pair of new client/consumer oriented controllers. The new controllers are primarily intended for use with upcoming 96-layer 3D NAND in SSDs coming to market in 2019 and 2020, but a few vendors will probably use the new controllers with the current 64L 3D NAND, targeting late 2018 or early 2019 releases. The new client SSD controllers share a common architecture with Marvell's latest enterprise NVMe controllers, allowing vendors to share firmware code between product lines. All of these new controllers support both 3D TLC and 3D QLC NAND flash memory.
Marvell NVMe SSD Controller Comparsion
88SS1084
88SS1100
88SS1098
Zao
88SS1092
Eldora Plus
88SS1093
Eldora
Market Segment
Mainstream Consumer
High-end Consumer
Enterprise/
Datacenter
Enterprise/
Datacenter
Consumer &
Enterprise
CPU Cores
4x ARM Cortex R5
3x ARM Cortex R5
DRAM
DDR3(L)
DDR4
LPDDR3
LPDDR4
DDR3(L)
DDR4
LPDDR3
up to 4GB
up to 8GB
up to 8GB
up to 2GB
32-bit @ 1200MHz
32-bit @ 800MHz
Host Interface
PCIe 3.0 x4, NVMe 1.3
PCIe 3 x4, NVMe 1.1b
NAND Interface
ONFI 4.0, Toggle 3.0
ONFI 3, Toggle 2.0
4 channels,
800MT/s
8 channels, 800MT/s
8 channels, 800MT/s
8 channels, 533MT/s
Sequential Read
3.0 GB/s
3.6 GB/s
3.6 GB/s
3.2 GB/s
Sequential Write
2.6 GB/s
3.0 GB/s
2.0 GB/s
4KB Random Read
450k IOPS
780k IOPS
700k IOPS
300k IOPS
4KB Random Write
400k IOPS
650k IOPS
250k IOPS
Package
12x13.5mm
418-ball BGA
17x17mm
625-ball BGA
17x17mm
625-ball BGA
17x17mm
556-ball BGA
Announced
June 2018
March 2018
March 2017
August 2014
The new 88SS1100 controller is the most direct replacement for the 88SS1093 "Eldora" controller, Marvell's most popular current NVMe controller. Both use a PCIe 3.0 x4 host interface and an 8-channel NAND interface. The 88SS1100 is very similar to the 88SS1098 enterprise controller that Marvell announced earlier this year, with the 88SS1100 lacking a few enterprise-oriented features like dual-port capability and high-capacity RAM support. The basic performance specs of the 88SS1100 are the same: up to 3.6GB/s for sequential reads, 3.0GB/s for sequential writes, 780k IOPS for random reads and 650k IOPS for random writes. Marvell's updated controller architecture enables this level of performance through a combination of an upgraded LDPC error correction engine, a faster NAND interface and an increase in the number of CPU cores.

Marvell is also introducing the 88SS1084 as a low-end counterpart to the 88SS1100. The 88SS1084 cuts the NAND channel count in half to just four channels, reducing the maximum performance but allowing for a significantly smaller controller. The 88SS1084 is intended for use in cheaper drives and form factors as small as M.2 2242. The DRAM and PCIe interfaces on the 88SS1084 have the same width as those on the 88SS1100, as Marvell has seen limited interest so far in controllers with PCIe x2 interfaces or DRAMless controllers that use the NVMe Host Memory Buffer feature. Performance for the 88SS1084 is expected to be around 3.0GB/s for sequential reads, 2.6 GB/s for sequential writes, 450k IOPS for random reads and 400k IOPS for random writes.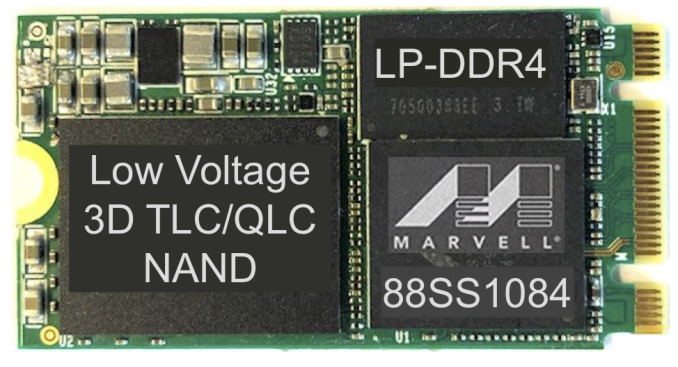 In addition to increased performance, Marvell expects these new controllers to offer significantly improved power efficiency by supporting LPDDR4 DRAM and the latest low-voltage NAND interface standards, and by manufacturing the controllers on TSMC's 28nm MPC+ process.
Marvell sells these controllers with the customers's choice from three levels of firmware support, ranging from a SDK providing basic hardware abstraction and leaving it up to the customer to implement the entire flash translation layer, up to a full turnkey solution that requires minimal customization from the drive manufacturer. The 88SS1100 and 88SS1084 controllers are available for purchase now, but will be ramping up to mass production in the second half of this year. Marvell's full turnkey firmware solution will be ready next year in time for the launch of SSDs using 96L 3D NAND.