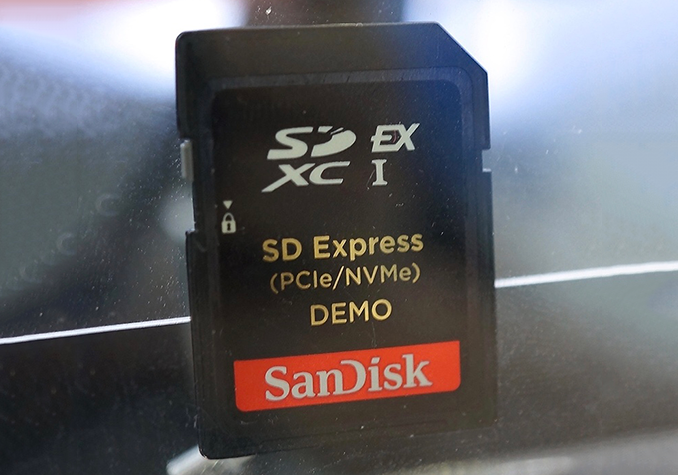 The SD Association - the body responsible for defining the standards for Secure Digital cards - has made it no secret that the organization has been working on a major update to the SD specification to greatly boost transfer rates and otherwise keep the standard in step with greater technology and solid state storage trends. Now at long last, the SD Association has published the SD 7.0 specification, setting the stage for the SD Express card era.
The SD 7.0 specification encompasses two major additions to SD cards. The first is the creation of the SD Express interface, a PCIe x1 + NVMe-based interface/protocol that is very SSD-like in nature and will allow for memory cards with transfer rates up to 985 MB/sec. Along with the new interface, the specification also defines a new SD Ultra Capacity (SDUC) class of cards, which will be able to go up to 128 TB in capacity. Importantly, despite the interface change, the new SD Express cards will maintain backwards compatibility with existing hosts, and current UHS-I-compatible cards will be able to work with future SD Express hosts. The SD Association will promote the SD Express spec together with PCI SIG and NVM Express organizations.
From Extreme to Mainstream
Requirements for removable storage devices continue to evolve at a very rapid pace. Capacities and performance levels required by professional, Hollywood-grade gear in the early 2010s are now needed for mainstream 4K UHD camcorders, upcoming 8K UHD cameras, drones, 360-degree cams, automotive, mobile, and other devices. The SD Association believes that nowadays many of these devices essentially need removable SSDs, and with up to 985 MB/s throughput (SD Express) as well as up to 128 TB capacity (SDUC), the two new standards will provide just that.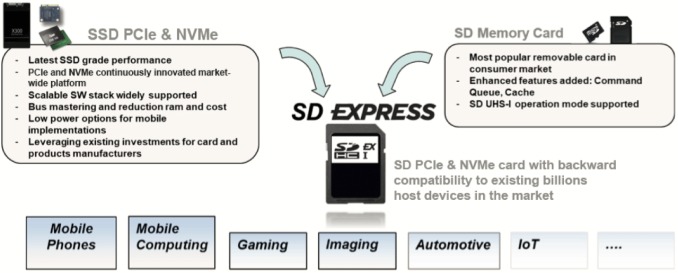 When it comes to throughput and perspective capacities, SD Express cards are slated to outperform storage modules for the RED cameras that are used to shoot movies by Hollywood studios (up to 300 MB/s, up to 960 GB). Furthermore, since SD Express uses the NVMe protocol and is considered as "removable SSD," it is logical to expect at least some of cards to support various reliability-enhancing features found in contemporary SSDs too. Reliability does not seem to be a part of the mandatory spec, but since everything behind the controller can be customized, making SD Express cards more reliable is possible.
SD Express: The Basics
SD Express cards will feature two physical interfaces as well as two set of connectors, with their overall design based on the current UHS-II pin configuration. To maintain compatibility with existing UHS-I and earlier hosts, the first row of pins SD Express cards will carry standard SD (UHS-I) signals as well as certain PCIe 3.0/NVMe 1.3 signals (i.e., REFCLK, CLKREQ# and PERRST# will be shared). Meanwhile the second row of pins, which are used for UHS-II/III signaling on current-generation cards, will instead be used exclusively for PCIe/NVMe signals on SD Express cards (thus preventing SD Express cards from having a UHS-II/III mode). When it comes to voltages, SD Express cards will use 3.3 V and 1.8 V supply, just like all modern SD cards. Maximum power consumption of SD Express cards will be 1.8 W obtained from two supplies. In addition, the SD 7.0 spec reserves space for two additional pins that will be used for future cards with 1.2 V signaling, with an eye on reducing power consumption.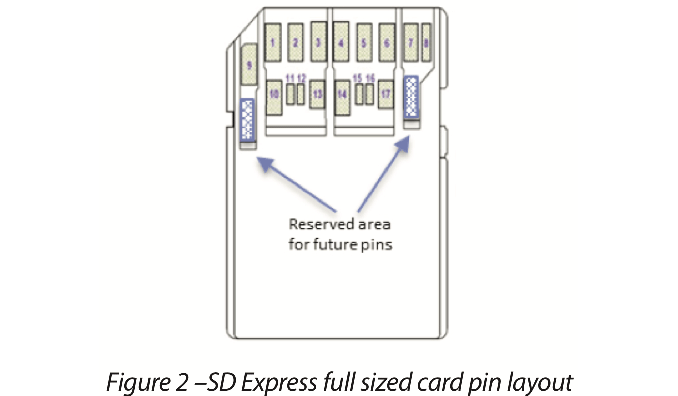 Right now, the SDA has only defined an SD Express standard for full-size SD cards; microSD cards will get a PCIe/NVMe interface some time later. Meanwhile, microSDUC cards are expected to hit the market in the foreseeable future (years from now, or course).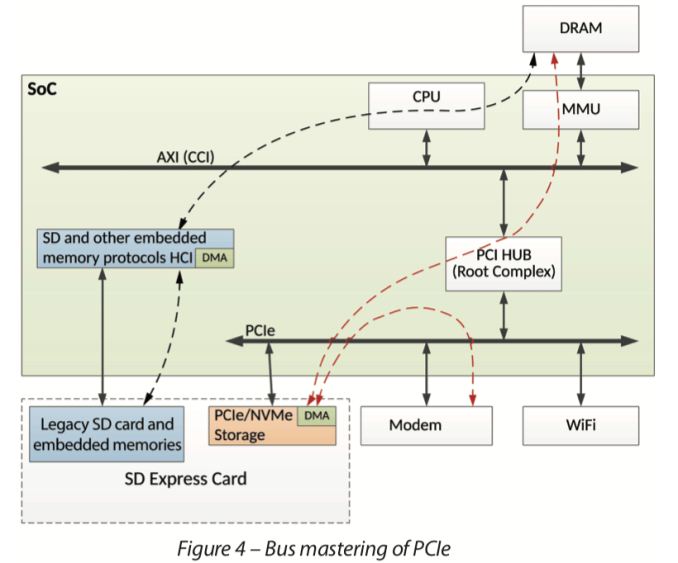 Under the hood, the SDA recommends that devices initialize SD Express cards using the legacy SD interface (even though initialization thought PCIe is supported as well), and therefore device makers will need to study thoroughly how shared SD and PCIe signals work. Hosts will identify SD Express cards as "Standard NVMe devices" and therefore will use standard NVMe drivers to access the media. Obviously, SD Express cards will support key NVMe 1.3 capabilities, including bus mastering/DMA, command queuing, Host Memory Buffer (it is not going to be easy to install a large DRAM chip into a high-capacity SD card, but allocated host DRAM size is subject to host device policy), and NVMe power states, just like modern SSDs. The SDA implies that as SD Express gets 'even faster', its memory can be used as an extension to host's DRAM, though it is likely that will happen only several years down the road, possibly with a PCIe Gen 4 or Gen 5 speeds.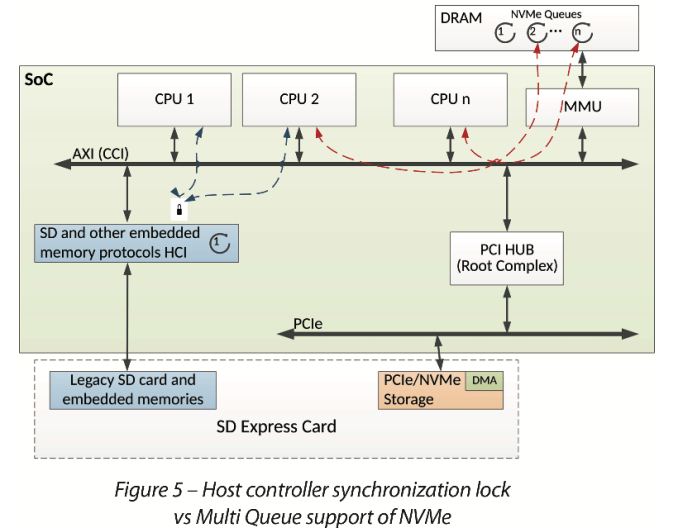 At least initially, not all NVMe 1.3 features will be supported. For example, password lock/unlock as well as write protection will be supported only via the legacy SD interface. Meanwhile, Content Protection for Recordable Media (CRPM) – the original "secure" part of Secure Digital – will not be supported over PCIe.
Furthermore, some of the SD card speed classes – Speed Class, UHS Speed Class, and Video Speed Class – are being phased out and will not be applicable to SD Express cards operating in PCIe mode. Since the video speed class tops at 90 MB/s, the odds are good that most SD Express cards and hosts will beat that performance. Speaking of hosts, it is worth nothing that because of the reassignment of UHS-II/III pins, SD Express hosts will not be able to support UHS-II/III speeds; those cards will still work on SD Express hosts, but only at UHS-I speeds.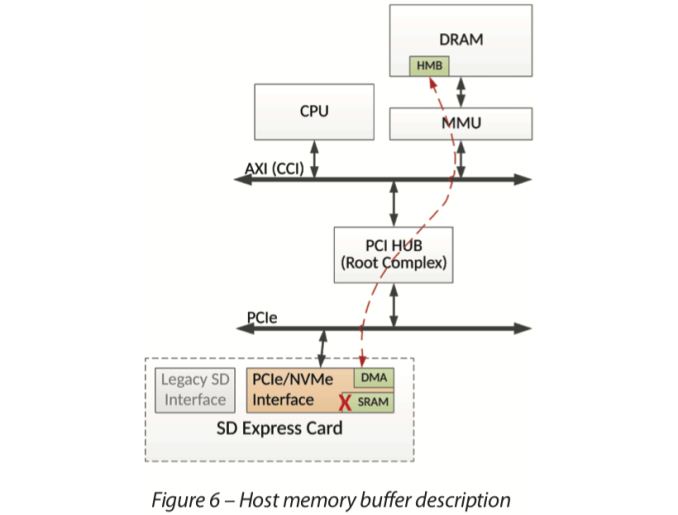 New Opportunities, But There Is a Catch
With the SD 7.0 specification and resulting performance and capacity increases for SD cards, the SD Association announced the most radical evolutionary change to SD ever. What is noteworthy is that the SDA and PCI-SIG will promote SD Express together, which emphasizes the importance of PCIe adoption by SD cards. In fact, it is possible that both organizations envision non-storage PCIe-based devices in SD form-factor, but only time will tell what exactly they want to build in terms of an ecosystem.
Earlier this year Western Digital demonstrated a prototype SD card featuring a PCIe 3.0 x1 interface at MWC. What is particularly noteworthy is that Western Digital said that the custom implementation costs of a PCIe interface was not high because a PCIe x1 PHY is not all that large. Though keep in mind that SD Express cards will not only need a PCIe PHY, but also a nearly fully-fledged NVMe controller, so there will be additional costs.
Obviously, the 985 MB/s maximum transfer rate of SD Express is a significant increase over the 624 MB/s supported by UHS-III. However, a major challenge faced by the SD Association with UHS-II and UHS-III has been the reluctance of device makers to adopt the faster standards. PC makers have rarely integrated fast card readers into their systems, as the only devices that regularly use UHS-II are higher-end DSLR cameras, all the while mainstream users barely need UHS-II/III slots. Since UHS-II/III support is being supplanted by SD Express, it remains to be seen whether the DSLR industry in general will adopt the new standard any time soon. This industry produces not only cameras, but builds card readers, storage devices with SD slots, printers, software and so on. Dropping support for UHS-II is not in the best interests of many people who own high-end cameras from Nikon, Panasonic, Sony, or Leica and have UHS-II supporting hardware. On the other hand, high-end cameras from Canon only support UHS-I, so skipping UHS-II/III and adopting SD Express could make sense for this company and its clients assuming that Canon has no concerns about power consumption of such cards.
Another point to note is that SD cards in general are too large for modern smartphones and even portable gaming consoles, which is why they are not used by companies like Samsung or Nintendo today and will not be used in the future.
Evidently, the SD Express spec opens up new doors to SD cards and offer a straightforward evolution path that will be aligned with advancements of PCI Express and NVM Express technologies. However, it remains to be seen when traditional adopters of such cards will start using them.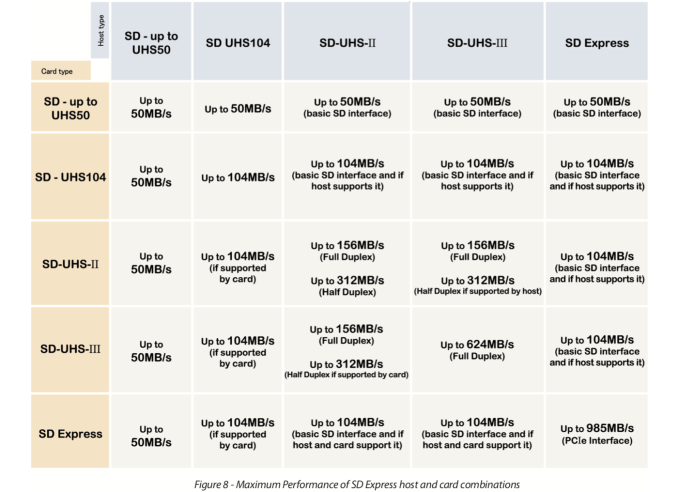 New Cards Incoming
Last but not least, with the introduction of SD Express and SDUC, the SDA will also be using new logotypes for the standards. As noted above, only full-size SD cards are getting SD Express at this time, so the new SD Express logos only apply to those cards. It should also be noted that while SD Express and SDUC are both part of the SD 7.0 standard, they can be implemented separately, so we're going to see SD Express cards offered in conjunction with all 3 capacity classes. This means there are logos for SDHC Express (up to 32 GB), SDXC Express (up to 2 TB), and SDUC Express (up to 128 TB). All of these cards will be backwards compatible with UHS-I-supporting hosts, so they will feature an appropriate marking.

Separately, there will be full-size SDUC and microSDUC cards that will use the traditional SD protocol, and those cards also get their own SDUC logo.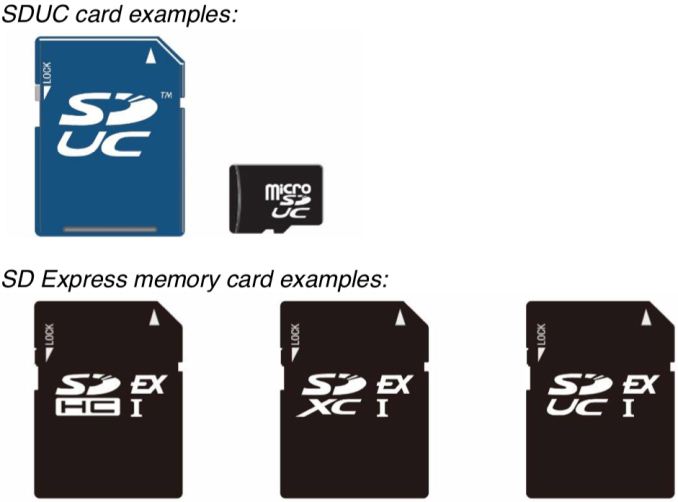 Related Reading:
Sources: Press Release, White Paper