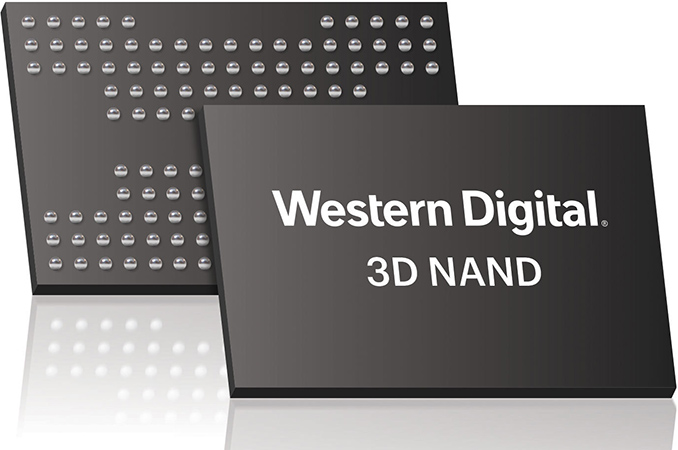 Western Digital announced this week that it has started shipments of its first products based on 3D QLC NAND memory. The initial devices to use the highly-dense flash memory are retail products (e.g., memory cards, USB flash drives, etc.) as well as external SSDs. Eventually, high-density 3D QLC NAND devices will be used to build high-capacity SSDs that will compete against nearline hard drives.
During Western Digital's quarterly earnings conference call earlier this week, Mike Cardano, president and COO of the company, said that in the third quarter of calendar 2019 (Q1 FY2020) the manufacturer "began shipping 96-layer 3D QLC-based retail products and external SSDs." The executive did not elaborate which product lines now use 3D QLC NAND, though typically we see higher capacity NAND first introduced in products such as high-capacity memory cards and external drives.
Western Digital and its partner Toshiba Memory (now called Kioxia) were among the first companies to develop 64-layer 768 Gb 3D QLC NAND back in mid-2017 and even started sampling of these devices back then, but WD/Toshiba opted not to mass produce the NAND. Meanwhile, in mid-2018, Western Digital introduced its 96-layer 1.33 Tb 3D QLC NAND devices that could either enable to build storage products with considerably higher capacities, or cut costs of drives when compared to 3D TLC-based solutions.
At present, Western Digital's 1.33 Tb 3D QLC NAND devices are the industry's highest-capacity commercial NAND chips, so from this standpoint the company is ahead of its rivals. But while it makes a great sense to use 1.33 Tb 3D QLC NAND for advanced consumer storage devices, these memory chips were developed primarily for ultra-high-capacity SSDs that could rival nearline HDDs for certain applications.
It is hard to say when Western Digital commercializes such drives as the company is only starting to qualify 96-layer 3D QLC NAND for SSDs, but it will definitely be interesting to see which capacity points will be hit with the said memory.
On a related note, Western Digital also said that in Q3 2019 (Q1 FY2020), bit production of 96-layer 3D NAND exceeded bit production of 64-layer 3D NAND.
Related Reading:
Source: Western Digital