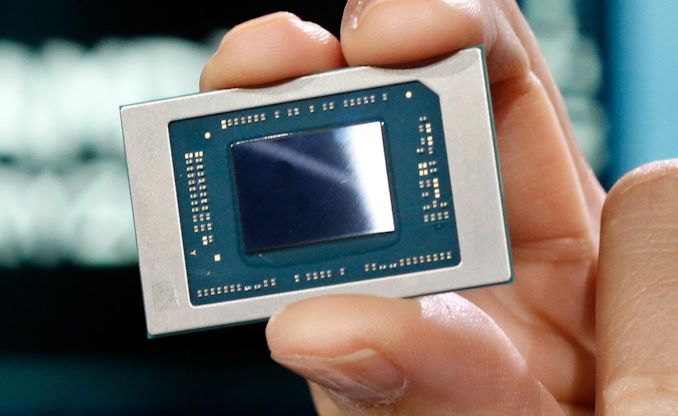 Back at CES 2023, AMD announced the first wave of Ryzen Mobile parts based on its Zen 4 architecture, the Ryzen Mobile 7040HS series. Based on AMD's Phoenix silicon, which uses TSMC's 4 nm process node to mix Zen 4 CPU cores with AMD's RDNA 3 graphics compute units all in a single, monolithic die, Phoenix is the next generation of high efficiency, highly-integrated AMD silicon. And today, AMD is revealing that Phoenix is going to spread its wings a little farther, with the announcement of the Ryzen Mobile 7040U series for ultraportable notebooks.
Bringing AMD's latest generation technologies down to the thin and light laptop market, the Ryzen Mobile 7040U series follows AMD's traditional cascading launch mobile launch strategy, delivering new silicon into increasingly lower powered devices as chip production ramps up and OEMs finish putting together new designs. Whereas the original 7040HS series is aimed at higher-power, higher performing laptops, the 7040U series tunes the same same silicon for more modest TDPs in the 15 Watt to 30 Watt range, making it better suited for use in ultraportable thin and light laptops – and fully exploiting the efficiency advantages of Zen 4.
We've been expecting the Ryzen Mobile 7040U series for quite some time now – AMD made it clear as far back as CES that a traditional U-series lineup was in the works, but until now we just didn't know when to expect it. Though considering that you still can't buy a 7040HS laptop today, today's 7040U announcement from AMD should not be taken as a sign that 7040U laptops are going to be on retail shelves any time in the immediate future.
AMD Ryzen 7040U Series: Up to 8-Cores With RDNA 3 Graphics
AMD's Ryzen Mobile 7040 series spans multiple key mobile product categories, ranging from the entry-level, which AMD segments as 'everyday computing' to its 'extreme gaming and creator' lineup for high-end and powerful gaming laptops. At the bottom of AMD's Pheonix Point series for mobile, the new AMD Ryzen Mobile 7040U series is comprised of four SKUs, which range from 8-core parts down to 4-cores; all of which include AMD's RDNA 3 integrated graphics. Phoenix also introduces AMD's Ryzen AI technology, an FPGA-based AI engine developed by Xilinx, which AMD claims are the first AI processor of its kind and is designed to accelerate AI workloads.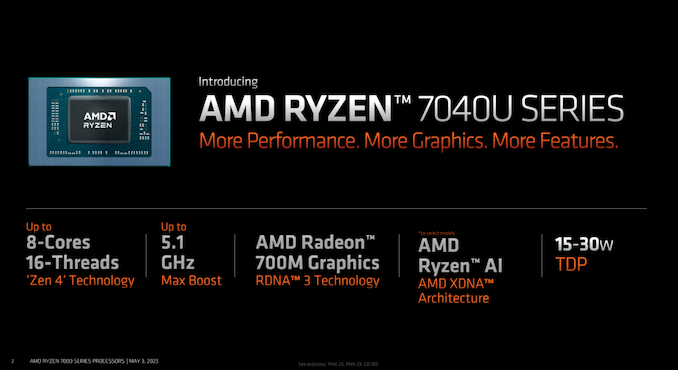 As they announced at CES 2023, AMD has updated its mobile naming scheme to make it somewhat easier for users to decipher what all the digits and characters in the product name mean. For the Ryzen Mobile 7040U series, the first digit represents the model year, with 7 being used for 2023, while the second digit represents the market segment, e.g., Ryzen 7 = 7, Ryzen 5 = 5/6, and Ryzen 3 = 3/4. The third digit (4) represents the CPU architecture of the product, so in the case of the 7040, it uses its latest Zen 4 cores.
The last character (suffix) is perhaps the most important indicator of the market segment, as it relates to the TDP and form factor, as the U relates to being a 15-30 W part. For those of you playing at home, this is a slight increase in the TDP window over previous generations – where the U series was 15-28 W – though with laptop vendors able to set their TDPs wherever they like, official TDPs are more of loose guidelines these days anyhow.
AMD Ryzen 7040U Mobile CPUs (Phoenix 4nm)
AnandTech
C/T
Base
Freq (MHz)
Turbo
Freq
(MHz)
iGPU
iGPU CUs
iGPU Freq
L3 Cache
(MB)
TDP
Ryzen 7 7840U
8/16
3300
5100
Radeon 780M
12
Up to 2.7 GHz
16
15-30W
Ryzen 5 7640U
6/12
3500
4900
Radeon 760M
8
Up to 2.6 GHz
16
15-30W
Ryzen 5 7540U
6/12
3200
4900
Radeon 740M
4
Up to 2.5 GHz
16
15-30W
Ryzen 3 7440U
4/8
3000
4700
Radeon 740M
4
Up to 2.5 GHz
8
15-30W
Looking at the four Ryzen 7040U SKUs for thin and light AMD-based notebooks, all four of its 'Pheonix' based APUs include AMD's RDNA 3 Radeon 700M series integrated graphics. Starting with the premier model, the Ryzen 7 7840U is an 8C/16T part with a base frequency of 3.3 GHz and a turbo frequency of up to 5.1 GHz. It has a combined total cache of 24 MB, with 16 MB of L3 cache for the entire chip and 1 MB of L2 cache per core, for a total of 8 MB of L2 cache.
Moving down the stack is a pair of Ryzen 5 models, the Ryzen 5 7640U and Ryzen 7540U, both of which include 6 CPU cores. The Ryzen 5 7640U is the faster of the two chips, with a 300 MHz bump on CPU base frequency over the 7540U (3.5 v.s 3.2 GHz), though both APUs have a turbo frequency of up to 4.9 GHz. Curiously, AMD is also using this point as the dividing line between what parts do or do not get the Ryzen AI co-processor; the upper-tier 7640U comes with it, but the lower-tier 7540U does not. Past that, the Ryzen 5 7640U and Ryzen 5 7540U are 6-core parts, so they have 16 MB of L3 cache and 6 MB of L2 cache.
As these are Ryzen 5 mobile Zen 4 APUs, they include AMD's Radeon 700M graphics. The Ryzen 5 7640U has the better iGPU of the two, with the Radeon 760M with 8 CUs with a maximum frequency of up to 2.6 GHz. In comparison, the Ryzen 5 7540U has the lower spec Radeon 740M with 4 CUs, although both iGPUs feature the same 16 ROPs/2 RB+ blocks.
The entry-level option to AMD's Zen 4 7040U series chips is the Ryzen 3 7440U, which is a quad-core APU (4C/8T) with a base frequency of 3.0 GHz, a turbo frequency of up to 4.7 GHz. This part also includes the Radeon 740M (4 CU) integrated graphics. As this is a 4-core part, AMD has significantly reduced the amount of available cache, for a combined total of 12 MB that's split into 8 MB of L3 cache and 4 MB of L2 cache.

Block diagram of the AMD Radeon 780M integrated graphics
It's worth pointing out that the Radeon 780M with 12 compute units (CU) has four Render Backends (RB+) blocks within the silicon, while both the Radeon 760M (8 CU) and Radeon 740M (4 CU) feature just two RB+ blocks. Compared to the Ryzen Mobile 6000 series, AMD has also improved the graphics frequencies, with the Radeon 780M clocking up to 2.7 GHz, which is 300 MHz faster than the Radeon 680M, which hit up to 2.4 GHz.
AMD Ryzen 7040U With Ryzen AI: One Xilinx XDNA Block Included
AMD's acquisition of Xilinx, which closed in February of last year, means they have been able to feed Xilinx's expertise and architecture into its latest Zen 4 products. The most prominent example is what AMD calls Ryzen AI, which is part of Xilinx's XDNA architecture. This XDNA-based architecture has been enabled within two of the four Ryzen 7040U series SKUs, with the top two SKUs, the Ryzen 7 7840U and Ryzen 5 7640U, getting access to the Ryzen AI block integrated into the silicon. The inclusion of 'Ryzen AI' is to bolster the capability of AMD's Phoenix processors in AI inference workloads, offering more efficient task-specific silicon than what the CPU or GPU are capable of.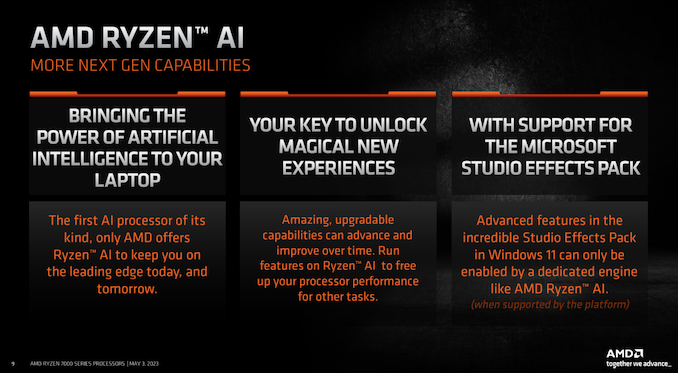 Another interesting highlight of AMD Ryzen AI is that it directly supports Microsoft's Studio Effects pack within Windows 11, which AMD claims can only be enabled by a dedicated engine like AMD Ryzen AI. While an interesting inclusion to the silicon for AI workloads, AMD hasn't provided or published any expected performance figures to accompany the announcement.
While we typically take a robust stance in digesting in-house performance figures, we usually don't take these at face value with in-house benchmarks optimizing things for favorable results. AMD did, however, provide some compute, and gaming performance figures comparing the performance of the Ryzen 7 7840U to Intel's Core i7-1360P and compute performance against Apple's M2 silicon.
AMD is claiming up to 175% gains in Passmark 10 performance over Apple's M2 chip while offering up to 228% Media Encode performance over the Core i7-1360P; these are undoubtedly best-case figures and are to be taken with a pinch of salt. Interestingly in the gaming performance figures, which it put up its Ryzen 7 7840U with Radeon 780M integrated graphics again Intel's Core i7-1360P with Iris Xe graphics, it's not too surprising to see that the Radeon 780M performed between 130% and 239% better than Intel in specific titles. If nothing else, AMD typically invests in more GPU silicon for their high-end mobile processors.
Regarding battery life, AMD states that it has heavily invested in efficiency leadership designed to bolster battery life by implementing Smart Power Management. As with previous announcements of its 7040HS series, AMD has yet to indicate how long battery life might be. Still, as partners and notebook vendors start to integrate Ryzen 7040U APUs with Zen 4 into their solutions, we'll eventually see how efficient AMD's Ryzen Mobile 7040U 15-30 W chips are compared to the previous generation.
Ryzen 7040U Launch: No Date as of Yet, But Expected Very Soon
One of the most significant talking points surrounding AMD's Ryzen 7040 mobile series is when they will launch. Early indications from AMD stated that we should start seeing broader adoption of its 7040 chips sometime in March. AMD announced to us in mid-March that it had pushed back the launch of its Ryzen Mobile 7040HS series until April.
As for the AMD Ryzen Mobile 7040U series, AMD isn't announcing any kind of release date or expected availability date at this time. Given the timing of AMD's announcement – a few weeks before Computex – we expect we'll find out more about the specific laptops in development and their expected release dates at that show.