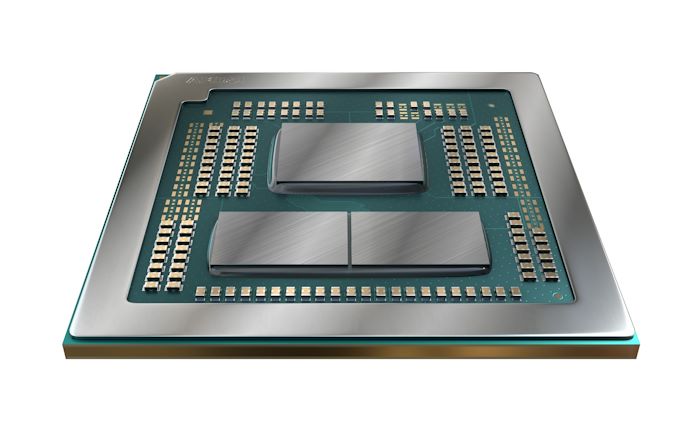 For this year's ChinaJoy expo, AMD is taking to the show to announce a new and very special mobile CPU for high-end, desktop replacement-class laptops: the Ryzen 9 7945HX3D, AMD's first V-cache-equipped mobile CPU. Slated to launch on August 22nd, the chip is set to break new ground for AMD in the mobile space, all the while giving gamers an even more potent CPU for high-end gaming laptops.
Based on AMD's cutting-edge 3D V-Cache packaging technology, which places an additional slice of L3 cache on top of the existing L3 cache on the core complex die (CCD), the Ryzen 9 7945HX3D marks the first time AMD has brought their extended L3 cache technology to the mobile space. And like the Ryzen desktop parts already featuring this cache, such as the Ryzen 9 7950X3D, AMD's aim is to offer buyers – and especially gamers – a top-end part that can offer even better performance in select classes of workloads that can take advantage of the additional cache.
The Ryzen 9 7945HX3D is joining AMD's current lineup of desktop replacement-class mobile SKUs, the Ryzen 7045HX 'Dragon Range' series, as its new flagship mobile part. First introduced earlier this year, the AMD Ryzen 7045HX series is designed to offer desktop-grade hardware and desktop-like performance, marking the first time in the Zen era that AMD has offered its desktop silicon in a mobile chip. The entirety of the 7045HX series is based on repacked desktop silicon, and the new Ryzen 9 7945HX3D is no exception – for all practical purposes, we're essentially looking at a mobilized version of AMD flagship desktop part, the Ryzen 9 7950X3D.
To that end, the Ryzen 9 7945HX3D is every bit as much CPU hardware as AMD can muster for this generation. With 16 Zen 4 CPU cores and a super-sized 128MB of L3 cache (making for twice as much cache as the Ryzen 9 7945HX) the Ryzen 9 7945HX3D embodies the Zen 4 architecture in its highest form. And even with the cooling limitations of mobile form factors and the extra slice of cache, AMD's new chip is still going to be able to turbo at up to 5.4GHz, only a few hundred MHz lower than AMD's best desktop chips today. Put succinctly, for DTR gamers on the go, AMD is positioning the Ryzen 9 7945HX3D to be the final word on mobile gaming performance.
Over the last year, we've extensively covered AMD's X3D processors with 3D V-Cache, which users can find below:
The AMD Ryzen 9 7945HX3D is the first mobile processor to utilize AMD's 3D V-Cache packaging technology, and such is designed primarily for gamers looking to take advantage of titles that can use the additional 64 MB slice of L3 cache, which is stacked on top of the existing 32 MB. This innovative concept involves stacking additional cache memory on the existing processor die, but more specifically, 3D layering an additional 64 MB onto one of the two CCDs, each of which natively includes 32 MB. This results in one of the CCDs having an extra 64 MB of L3 cache attached, giving it a total of 96 MB on the V-Cache CCD. In comparison, the other CCD remains with 32 MB of L3 cache.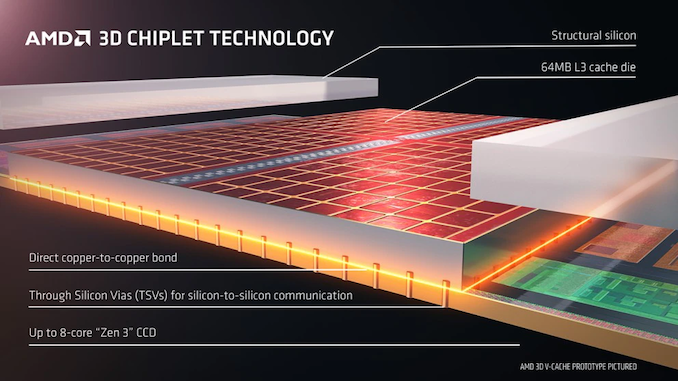 This 3D layering uses silicon vias (TSVs) acting as vertical interconnects through the silicon substrate; the cache memory becomes seamlessly connected to the die. Through 3D V-Cache, a significantly larger slice of L3 cache memory can be efficiently integrated into the processor without the need for a separate, larger compute core complex (CCD). AMD uses a thinning process on the dies to ensure compatibility with the rest of the silicon and thus can be cooled effectively. This advancement can result in substantial performance improvements in games that can utilize more L3 cache without sacrificing too much on overall compute performance.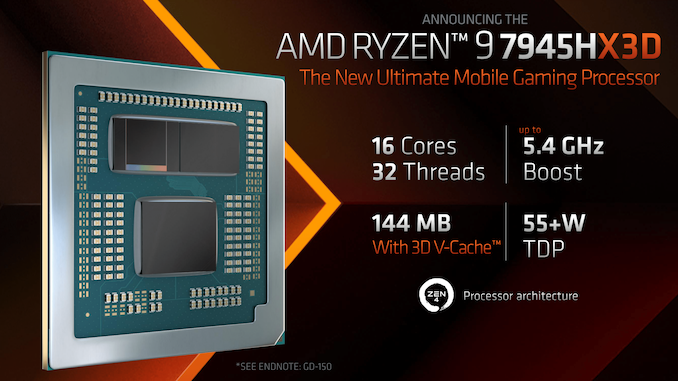 Moving onto the actual focus of this piece, the Ryzen 9 7945HX3D is undoubtedly a welcomed addition to AMD's Zen 4-based mobile processors. While there has been much speculation about whether or not AMD would release a mobile variant with 3D V-Cache packaging, AMD's 7045HX series is a desktop replacement part and, as such, is using the same 5 nm Rembrant Zen 4 cores. In contrast, the 7045HS and other Ryzen 7000 mobile chips are based on an 'optimized' TSMC 4nm node. Given the top SKU (until now) from AMD's Ryzen 7045HX series stack is reserved for the top-tier desktop replacement notebooks, the Ryzen 9 7945HX3D looks like the ideal sidestepped replacement designed specifically for gamers to benefit even more in such a hotly contested mobile market.
AMD Ryzen 7045 HX Mobile CPUs
on 5nm (Zen 4)
AnandTech
Cores/Threads
Base
Freq (MHz)
Boost
Freq (MHz)
L3 Cache
(MB)
iGPU
iGPU
CU
TDP
(W)
Ryzen 9 7945HX3D
16 / 32
(2 x CCDs)
2300
5400
128 (96+32)
Radeon 610M
2 x RDNA2
55W +
Ryzen 9 7945HX
16 / 32
(2 x CCDs)
2500
5400
64 (32+32)
Radeon 610M
2 x RDNA2
55-75W+
Ryzen 9 7845HX
12 / 24
(2 x CCDs)
3600
5100
64 (32 + 32
Radeon 610M
2 x RDNA2
45-75W+
Ryzen 7 7745HX
8 / 16
(1 x CCD)
3300
4500
32
Radeon 610M
2 x RDNA2
45-75W+
Ryzen 5 7645HX
6 / 12
(1 x CCD)
3300
4500
32
Radeon 610M
2 x RDNA2
45-75W+
While the Ryzen 9 7945HX is a 16C/32T part with a boost clock of 5.4 GHz and 64 MB of L3 cache and is undoubtedly high-end, the Ryzen 9 7945HX3D is similar in the core specifications. It adds 64 MB of 3D stacked V-Cache onto one of the CCDs (32 + 64 MB) to give users a massive 96 MB on one of the CCDs; the other CCD with 32 MB remains unchanged. The other difference in the specifications between the two chips is that the Ryzen 9 7945HX3D has a 200 MHz lower clock speed than the vanilla 7945HX (2.3 GHz vs. 2.5 GHz).
Like other Ryzen 7045HX mobile chips, they also feature Radeon 610M integrated graphics with two RDNA 2 CUs. For light desktop work, using the Radeon 610M will still be ample and save battery power in the long run, as enabling the GPU in games will make a massive dent in any battery efficiency.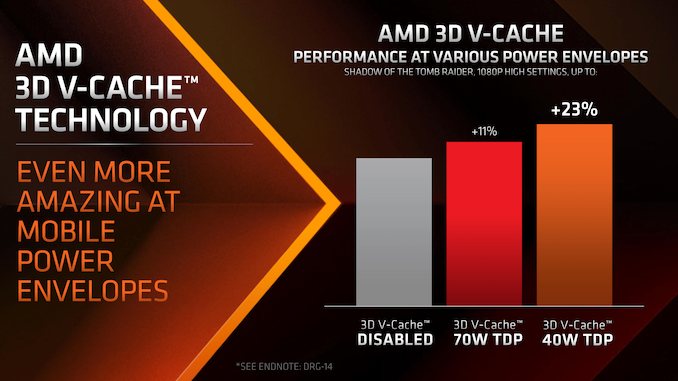 Touching on efficiency, according to AMD's slide deck, the Ryzen 9 7945HX3D looks to keep much of this at various power envelopes, including 70 W and 40 W. While this is based on AMD's in-house testing using Shadow of the Tomb Raider at 1080p high settings, AMD is claiming up to 23% better efficiency at 40 W, and up to 11% over the non-3D V-Cache packaged Ryzen 9 7945HX.
One significant thing to note is that, like its desktop counterpart, the Ryzen 9 7945HX3D is technically a heterogeneous CPU design. That is, it has two distinct, non-identical CPU clusters: a higher clocking traditional CCD, and then a slightly lower clocking CCD that has the additional V-cache equipped. Which, as a result of this dissimilarity, requires AMD to take a larger role in scheduling threads under Windows.
In previous examples of a 2 x CCD Ryzen 7000 chip, specifically when we reviewed the Ryzen 9 7950X3D, not all of the cores across both CCDs were utilized. When 'Game Mode' is enabled within Windows and a game is loaded, AMD's drivers are designed to detect that a game is in use, triggering the OS to park the CCD without the 3D V-Cache and place all of the load onto the CCD with 96 MB of L3 cache. The two drivers in AMD's arsenal are the 'PPM Provisioning file driver' and the '3D V-Cache Performance Optimizer driver'. These are both designed to work in tandem with Microsoft's Game Mode to effectively detect when a game is running and when one isn't.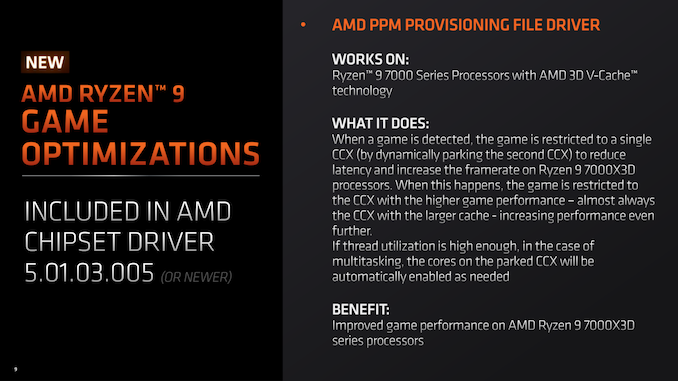 AMD slide touching on PPM Provisioning File Driver from Ryzen 9 7950X3D launch
The PPM Provisioning File driver and the 3D V-Cache Performance Optimizer driver in compute-reliant applications will enable both CCDs, thus giving the total allowance of 16C/32T. The idea is that with Windows Game Mode enabled and with the pair of drivers, they can determine whether or not the program can utilize the 3D V-Cache. The only cases that might not show the 3D V-Cache in a favorable light are in titles that can use more than 8C/16T, where having the full 16C/32T available might yield higher framerates.
Of course, this can be overridden by adding the application to the 'list' within Windows Game Mode if users have a preference or they don't see the desired performance. While this didn't impact game performance in some titles, such as Civilization VI when we reviewed the Ryzen 9 7950X3D, CPU-intensive games such as this benefit from more cores and threads above all else. When it comes specifically to gaming, having an optimal graphics card installed into the notebook will prove more fruitful at higher resolutions, such as 1440p and 4K. However, having a chip with enough CPU power, such as AMD's Ryzen 7045HX premium gaming notebooks, will also increase the overall utilization rate of the CPU and GPU.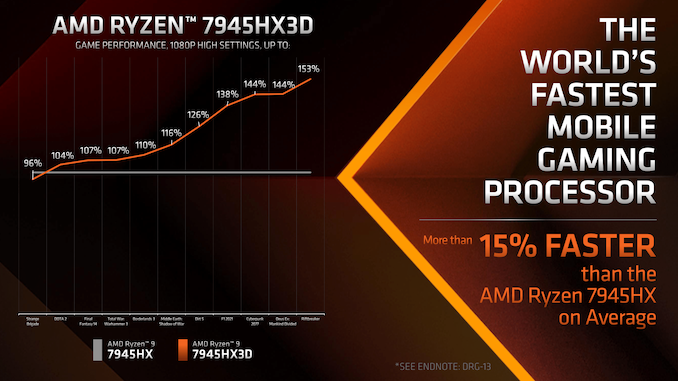 Alongside today's reveal, AMD has also published some basic performance guidance for the new Ryzen Mobile part. And while vendor-supplied numbers should always be taken with a grain of salt, they do give us some insight into what kind of performance levels we could or should be expecting. In this case, AMD claims that the AMD Ryzen 9 7945HX3D with 128 MB of 3D V-Cache is, on average, more than 15% faster than the current Ryzen 9 7945X when gaming at 1080p with high settings. Improving CPU gaming performance by 15% in favored situations) is a bold claim; but at the same time it's telling that AMD focused on 1080p for devices that are likely to be equipped with GeForce GTX 4080 and 4090 graphics solutions. As we've already seen with AMD's desktop V-cache parts, the extra cache is really only beneficial in CPU-limited scenarios, so AMD isn't about to pick 1440p or 4K resolutions where the GPU is the limiting factor.
In any case, the precise performance benefits of the V-cache will vary on a title-by-title basis. As we've seen in our desktop reviews, the performance benefits cover the full gamut, ranging from zilch to ridiculous speed-ups in CPU-bound simulation games like Factorio. And AMD's own performance guidance for the 7945HX3D showcases a similar spread.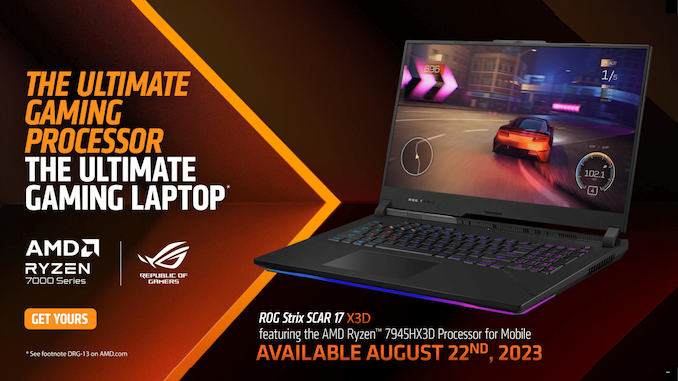 Ahead of next month's launch, only a single notebook has been announced to use AMD's Ryzen 9 7945HX3D: the ASUS ROG Strix SCAR 17 X3D. ASUS is AMD's traditional go-to partner for new mobile parts – most recently partnering up for the Ryzen Z1 series via the ASUS Ally – so it's not surprising to see they're once again AMD's launch partner for their newest mobile CPU.
While AMD hasn't provided complete list of specifications for the laptop, the footnotes for AMD's in-house testing indicate that the notebook had 32 GB (2 x 16 GB) of DDR5 memory, a powerful NVIDIA GeForce RTX 4090 graphics chip, and a 1 TB SSD. And while not in the footnotes, it can be inferred from the name that we're looking at a 17-inch display, which is typical for these DTR-class laptops.
The AMD Ryzen 9 7945HX3D is set to be released on August 22nd. AMD isn't providing any pricing guidance since this is a mobile part that's only available to OEMs, but at a high level, there's every reason to expect laptops using the chip to carry a further premium over existing 7945HX designs. We don't have any more information about the chip or the ASUS SCAR at this time, but we expect to hear about more notebooks featuring the Ryzen 9 7945HX3D in due course as we get closer to launch.