What's New Since RC1?
While we saw a great deal of changes between our initial review of
Windows Vista Beta 2
and
Release Candidate 1
, it should come as no surprise that there have been far fewer changes between RC1 and the final version we are looking at today. For better or worse, RC1 was the last chance for Microsoft to implement any changes in Vista that were design changes; everything since then has been in the realm of last-minute polish and bug fixes. As a result, certainly Vista is in better shape than ever before, but at the same time it means that design issues we identified have not been resolved.
Given that, prospective users of Vista are going to find that our
previous complaints
about the User Account Controls still stand. We still find it's a good idea and a major improvement over the lackluster security features of previous versions of Windows, but even with the improvements Microsoft has made to it, it's still too annoying from a power-user perspective.
When Vista first entered widespread public testing about a year ago, a series of screenshots were circulated showing the worst-case scenario for the number of operations required to permanently delete a single file. At the time it was six operations ranging from confirmation of the delete to granting security permissions to empty the recycle bin. To Microsoft's credit they've reduced that somewhat, but we can still replicate that situation and come up with a worst-case scenario that takes four steps. Two of those steps are the required confirmation for deleting the item and then emptying the Recycle Bin, but the other two are security confirmation steps and while it's admittedly nit-picking, it's overly redundant to require two security steps to delete a file; this makes it twice as hard as it is under any previous version of Windows. UAC security will be accepted up to a point, but even one more operation than is necessary is going to quickly cause UAC to end up disabled by those who know how to do it.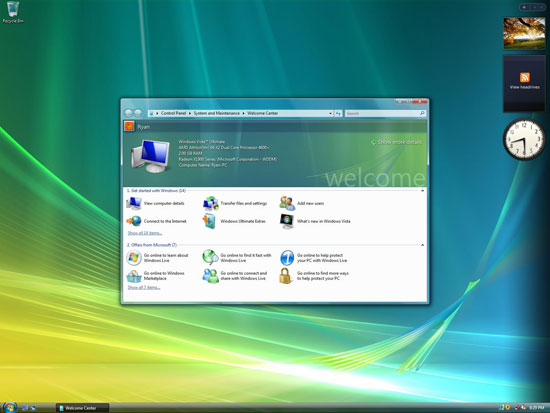 Click to enlarge
Similarly, launching an application that requires administrative rights is still more difficult than it needs to be. As we touched upon this briefly last time, with the launch of Vista a lot of common 3
rd
-party applications will continue to require administrative privileges to run correctly, and it will continue to be this way for some time until everyone has had a chance to retrofit their applications for Vista. Unfortunately, every time one of these applications is launched the user needs to approve the application, and like the deletion scenario this gets increasingly redundant as the same applications are reused day in and day out. A pre-approval method or some other system is desperately needed for Vista's UAC system if the goal is to maximize security while minimizing the number of users disabling these advanced security features. Otherwise there are only so many orange screens that one can stand before UAC becomes a victim of its super-secure design.
One of the few noticeable changes since RC1 has been the driver situation with Vista, which has steadily improved since we first looked at Beta 2. Between the final driver submissions for RTM and a much smarter Windows Update, Vista was able to install drivers for all of our hardware in one of our test systems, other than the driver for a PhysX card. Working drivers were found for our motherboard, video, sound, network, on-board SCSI, and even TV cards. This is likely the high point for Vista as newer devices will ship without drivers built in to Vista, but nonetheless it's a refreshing experience after the amount of work required to completely install a set of drivers on XP. With the ability to load drivers off of a USB drive at installation, it should never be that bad again either.
The one weak spot as far as drivers are concerned continues to be audio and video drivers, but that too has been improving. We'll take a look at later with our benchmarks of Vista, but video performance is much closer to that of Windows XP compared to our first look at Vista, at least as far as DirectX 9 titles go. DirectX 10 and OpenGL are not as clear as there are no DirectX 10 games (and they will require Vista regardless) and AMD is still working the kinks out of their new OpenGL driver for Vista. For audio, earlier concerns about the new audio stack breaking older games has been partially resolved as Creative Labs has released a DirectSound3D-to-OpenAL wrapper that works with some games, showcasing that it's possible to work around the stack changes.
Even with a lengthy preview article, there is still a lot of ground to cover when taking a close look at the final release version of Windows Vista. We have attempted to create a comprehensive look at the new operating system, but even then there are still plenty of items that will have to wait for another day before we can truly evaluate them. The big question that almost everyone is going to want answered is pretty simple: should you upgrade to Windows Vista now or wait awhile longer? That's a question we hope to answer by the time we finish this article, so without further ado let's take a look at some of the new features.