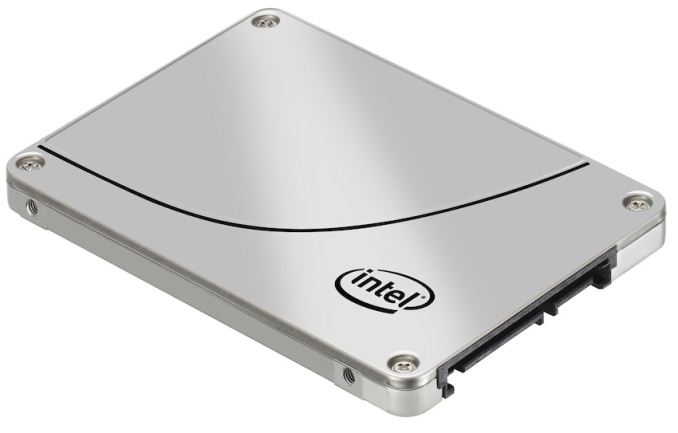 Late last week Intel updated its enterprise SATA SSD lineup with the 'Data Center' DC S3610 and DC S3710. At the time of the announcement the details of what exactly had changed were rather scarce, but I just got off of the phone with Intel and have a better understanding of the announcement.
The S3610 and S3710 are based on Intel's second generation SATA 6Gbps controller, which was first introduced in the high capacity (1.2TB & 1.6TB) and M.2 S3500 models a couple of months ago. Intel is keeping the specifics of the controller close to its chest and the only tidbit of info I was able to get out of Intel is that the new controller runs at a higher frequency, although Intel wouldn't disclose the exact speed (for the record, the first generation controller runs at 400MHz in the S3500/S3700). My guess would be that the second generation controller is merely a die shrink with the architecture being very similar, which would allow a higher frequency without impacting the power consumption. I'm also thinking that the internal caches and the DRAM controller have been upgraded to enable the higher capacities.
Intel SSD DC S3710 Specifications
Capacity
200GB
400GB
800GB
1.2TB
Controller
Intel 2nd Generation SATA 6Gbps Controller
NAND
Intel 128Gbit 20nm High Endurance Technology (HET) MLC
Sequential Read
550MB/s
550MB/s
550MB/s
550MB/s
Sequential Write
300MB/s
470MB/s
460MB/s
520MB/s
4KB Random Read
85K IOPS
85K IOPS
85K IOPS
85K IOPS
4KB Random Write
43K IOPS
43K IOPS
39K IOPS
45K IOPS
Read/Write Power Consumption
2.6W / 4.0W
2.7W / 5.4W
3.0W / 5.9W
3.1W / 6.9W
Endurance
3.6PB
8.3PB
16.9PB
24.3PB
MSRP
$309
$619
$1,249
$1,909
The S3710 replaces the popular S3700 and in addition to the controller the NAND has been switched from 64Gbit 25nm HET MLC to 128Gbit 20nm HET MLC (HET stands for High Endurance Technology, which is essentially Intel's marketing term for eMLC). Despite the larger die (and hence slightly slower) NAND, the performance sees an upgrade from 76K random read IOPS to 85K and from 36K random write IOPS to up to 45K. The improvement is mostly due to the new controller, although Intel told me that there is also some NAND-level optimizations in the mix. The endurance remains at the same 10 drive writes per day for five years and as usual to enterprise drives there's full power loss protection along with AES-256 encryption. Pricing comes in at ~$1.50 per gigabyte and the drive is already available.
Intel SSD DC S3610 Specifications
Capacity
200GB
400GB
480GB
800GB
1.2TB
1.6TB
Controller

Intel 2nd Generation SATA 6Gbps Controller

NAND
Intel 128Gbit 20nm High Endurance Technology (HET) MLC
Sequential Read
550MB/s
550MB/s
550MB/s
540MB/s
500MB/s
540MB/s
Sequential Write
230MB/s
400MB/s
440MB/s
520MB/s
500MB/s
500MB/s
4KB Random Read
84K IOPS
84K IOPS
84K IOPS
84K IOPS
84K IOPS
84K IOPS
4KB Random Write
12K IOPS
25K IOPS
28K IOPS
28K IOPS
28K IOPS
27K IOPS
Read/Write Power Consumption
2.6W / 3.3W
2.7W / 4.7W
2.7W / 5.3W
2.9W / 6.3W
3.0W / 6.4W
3.3W / 6.8W
Endurance
1.1PB
3.0PB
3.7PB
5.3PB
8.6PB
10.7PB
MSRP
$209
$419
$509
$839
$1,289
$1,719
The S3610 is a totally new series in between the S35xx and S37xx lineups and its differentiator is the three drive writes per day endurance (whereas the S35xx is rated at 0.35 DWPD and the S37xx at 10 DWPD). Similar to the S3710, the S3610 also uses 128Gbit 20nm HET MLC, but there's a difference in the binning quality of the chips. Basically, the S3710 gets the best of the best dies with the highest endurance, while the S3610 gets the dies that don't make the cut for the S3710 but are still very high quality. There's a difference in over-provisioning levels too as the S3710 features a higher 30-40% over-provisioning with the S3610 having only 10-20% (in both models the exact over-provisioning depends on the capacity). Random write performance is quite a bit lower as well, but the S3610's focus is in mixed rather than very write-intensive workloads where the S3710 is the best fit. Full power loss protection and AES-256 support are also present, similar to the rest of Intel's enterprise SSD lineup.
Comparison of Intel's Enterprise SATA SSDs
S3500
S3610
S3710
Form Factors
2.5", 1.8" & M.2 2280
2.5" & 1.8"
2.5"
Capacity
Up to 1.6TB
Up to 1.6TB
Up to 1.2TB
NAND
20nm MLC
20nm HET MLC
20nm HET MLC
Endurance
0.35 DWPD
3 DWPD
10 DWPD
Random Read Performance
Up to 75K IOPS
Up to 84K IOPS
Up to 85K IOPS
Random Write Performance
Up to 18.5K IOPS
Up to 28K IOPS
Up to 45K IOPS
Approximate Pricing
~$0.90/GB
~$1.05/GB
~$1.55/GB
I made a quick table comparing Intel's enterprise SATA SSDs after last week's announcement. The S3500 will remain on the market as an entry-level product and it's also the only one that comes in M.2 form factor. As usual, the performance and endurance scale with price, so the S3500 is mainly aimed for read-intensive workloads (e.g. media streaming), whereas the S3610 and S3710 provide the necessary performance and endurance for mixed and write-intensive workloads respectively.
Intel hasn't sampled the S3610 and S3710 yet, but we hope to get samples soon and we'll be able to put the new drives through our own tests.