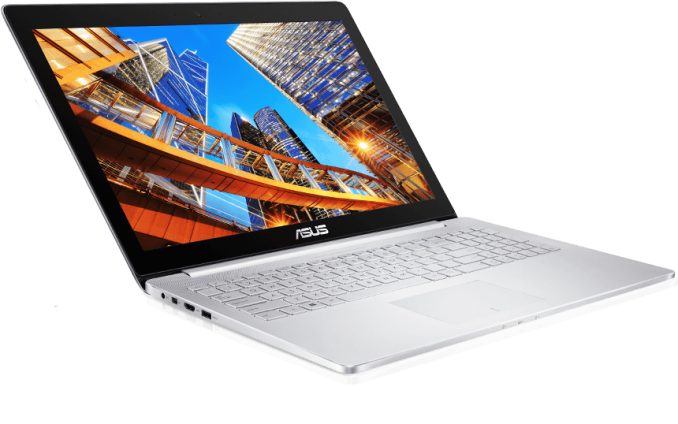 Today Asus announced their new ZenBook Pro UX501. The ZenBook Pro UX501 sits above all the other ZenBooks as a flagship laptop for people who need serious processing power when they're on the go. It could be called a workstation laptop or a desktop replacement, but whatever the case may be it certainly packs some potent hardware. I've organized its specifications in the chart below.
ASUS ZenBook Pro UX501
Size
15.1 x 10.0 x 0.8"
38.4 x 25.4 x 2.03cm
Mass
5 lbs - 2.27 kg
Display
15.6" 1920x1080 IPS LCD or
15.6" 3840x2160 multi-touch IPS w/ 100% sRGB
Battery
60/96Wh battery rated for 6 hours of usage
Storage/DRAM
1TB 5400RPM HDD or
128/256GB SATA3 SSD or
512GB PCIe x4 SSD
16GB DDR3
CPU
Intel Core i7-4720HQ (2.6GHz base, 3.6GHz turbo)
GPU
NVIDIA GTX 960M
Wireless
2x2 802.11ac + BT 4.0
Ports
3 x USB 3.0, 1 x Thunderbolt 2.0/mDP, HDMI, SDXC,
3.5mm Headset Jack
Front Camera
HD 720p
Operating System
Windows 8.1 64-bit
Warranty
1-year limited
Price
$1799 for UHD + 512GB SSD model
Starting with its appearance, we see that the UX501 features an aluminum chassis with the same spun metal finish that ASUS has put on most of their products. At 2.03cm thick at its thickest point and a mass of 2.27kg, it's definitely not an ultra portable laptop. The aluminum build and high end specs will inevitably draw comparison to the MacBook Pro, and the name ASUS has chosen certainly gives the impression that they're taking on Apple's flagship laptop as well. That being said, in my view the UX501 is distinctly an ASUS product with its slightly tapered chassis and brushed metal lid.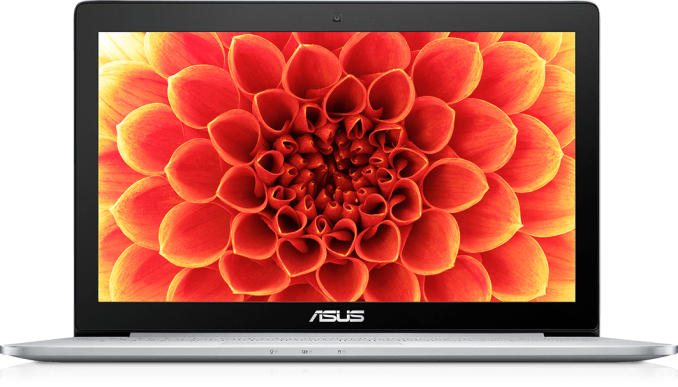 Just looking at the specs, it's clear that the UX501 is what one might call a desktop replacement laptop. The most notable point may be its display, which is a 15.6" 3840x2160 IPS panel. At 282ppi it's an extremely high resolution display, although I don't think anyone was unhappy with 3200x1800 panels and the lower power consumption that comes with them. ASUS is also reporting full sRGB gamut coverage, and hopefully high color accuracy is bundled with that gamut. The rest of the specs are equally impressive, with a 2.6GHz quad core Intel Core i7 CPU, and NVIDIA's GTX 960M GPU.
In terms of storage, ASUS is offering several options with the UX501. Buyers can opt for a 1TB 5400RPM HDD, a 128GB or 256GB SATA III SSD, or a 512GB PCIe x4 SSD. The PCIe SSD is definitely the most interesting option, with ASUS quoting maximum read/write speeds of 1400Mbps.
Battery life on the UX501 is a bit low, but hardly unexpected for a laptop with these specifications. With no Broadwell quad core i7 parts available, companies making desktop replacements are stuck using Intel's 22nm Haswell parts. The display is undoubtably the biggest consumer of power, and one can debate the merits of moving to 4K from QHD+ or other resolutions. With a 96Wh battery in the UHD model, ASUS is also pushing up against travel regulations that do not permit battery packs above 100Wh on airplanes. Regardless, any users interested in a desktop replacement should always be ready to keep their charger with them.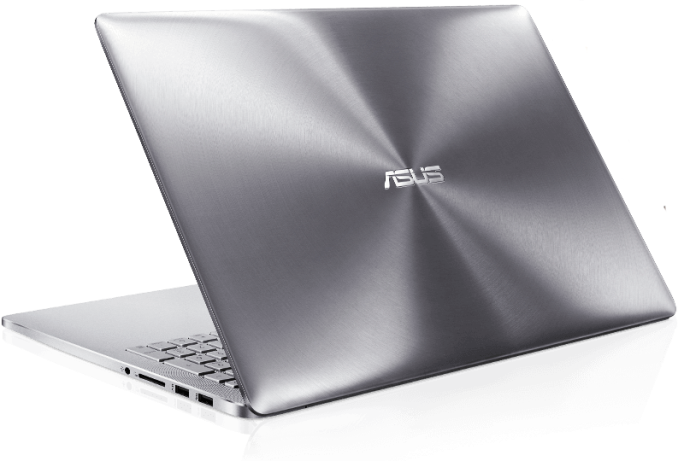 The I/O ports on the UX501 are fairly standard for a laptop of this class, but there's one port that is fairly unique among Windows laptops. ASUS has included a single Thunderbolt 2 port on the UHD model of the UX501. Thunderbolt never really took off like many had hoped, but it seems that there's enough adoption of it in the professional space to warrant ASUS putting it on their flagship laptop. The 1080p models will feature a Mini-DisplayPort output rather than the Thunderbolt 2 port.
The ASUS ZenBook UX501 is available now in the United States from the ASUS Online Store as well as from various retailers. The fully featured model with the UHD display and 512GB PCIe SSD will be $1799 USD.