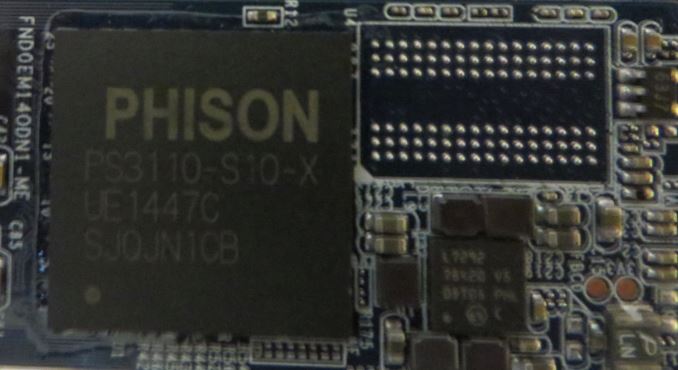 Phison may not be a household name, but they're a major player in the SSD market. Where Marvell's SSD controllers are typically sold to drive vendors who then pair them with custom or third-party firmware, and SandForce and Silicon Motion controllers are typically bundled with firmware, Phison's controllers are mostly sold as part of a turnkey drive platform that's ready to be put into a branded case and put on store shelves. This business model has made Phison the favorite supplier for new players in the SSD market with no existing drive manufacturing infrastructure, and for established brands that need to update their product line but can't stomach the high R&D costs of staying competitive with custom controllers or firmware.
For 2016, the mainstay of Phison's controller lineup will continue to be the PS3110-S10, which has been used in drives sold by OCZ/Toshiba, Mushkin, Corsair, Zotac, Patriot, Kingston, PNY and others, and paired with both TLC and MLC NAND. Squeezing in below the S10 and more or less displacing the S9 will be the new PS3111-S11 low-cost SATA controller with the option of operating as a DRAM-less controller and providing only two NAND channels but also the first Low Density Parity Correction (LDPC) support from Phison. Thanks to SLC caching support its peak performance numbers only suffer slightly and its support of capacities up to 1TB should be sufficient for this year's value SSDs, but don't expect the S11 to sustain great performance on heavy workloads.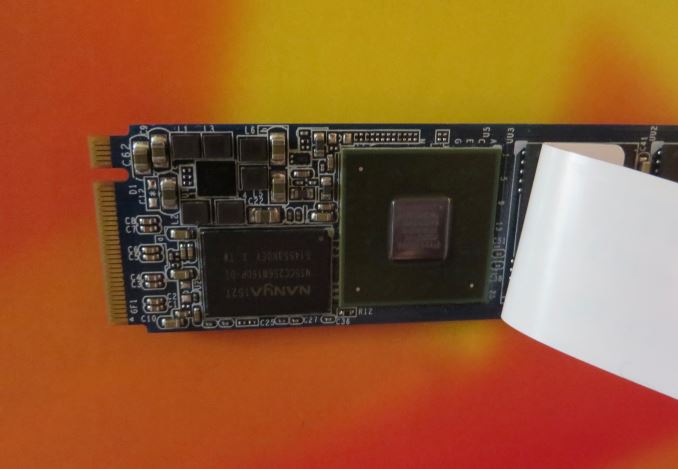 The much more exciting product is Phison's PCIe 3.0 x4 NVMe SSD controller, the PS5007-E7. The E7 controller is very close to launch and we've already seen numerous product announcements based on that platform. The E7 is aiming to be the highest performance consumer SSD controller and will be competing directly against Samsung's 950 Pro. The controller hardware has been finalized and the firmware is in the last stages of performance optimization. Phison plans to finalize the firmware in February and drives should be on the shelves in March.
We've previously seen prototypes of the E7 controller from G.Skill at Computex last year and from Mushkin at CES 2015. Since Computes the write performance specifications have improved slightly: sequential write is up from 1400MB/s to 1500MB/s, and random write is up from 200k IOPS to 250k IOPS. Sequential read and random read speeds published by Phison match what G.Skill said at Computex: 2600MB/s sequential read and 300k IOPS for random read, though Phison notes their random performance numbers as being burst performance. They also are claiming a sustained random performance of 36k IOPS, presumably referring to steady-state random writes. Those numbers are all for planar MLC NAND, but the E7 controller also supports TLC and 3D NAND. Given the imminent availability of 3D NAND, Phison is also able to declare support for capacities up to 4 TB where G.Skill's demo only promised up to 2TB.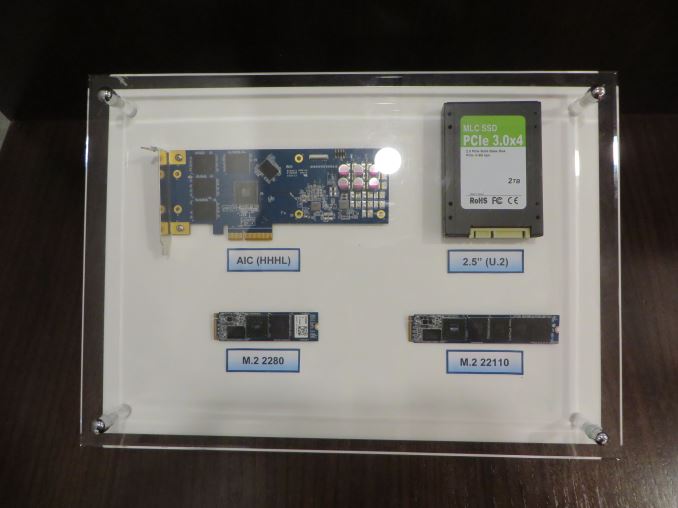 Phison E7 drives will be available in a variety of form factors. M.2-2280 has been the most popular choice for client PCIe SSDs, but some E7-based drives will be opting for the longer M.2-22110 size. This will provide room for 8 flash packages instead of 4, allowing for higher capacities or cheaper NAND packaging by stacking fewer dies per package. Most importantly, the larger M.2 card will make it possible to populate all 8 channels on the E7 controller while still using standard off the shelf flash packages. The longer M.2 size won't be usable with as many motherboards and will have even more trouble in the notebook market, but many SSD vendors targeting the enthusiast market are willing to make those compromises.
Several vendors will also be selling drives in a PCIe half-height half-length add-in card form factor. This relatively spacious PCB allows for the highest capacities and better passive cooling with or without a heatsink. Phison's reference model also included power loss protection capacitors on the card, though they won't be present on all retail models—Patriot's Hellfire AIC didn't have the capacitor bank populated. Phison also showed a 2.5" U.2 model, but we didn't encounter any vendors that were showing off that option.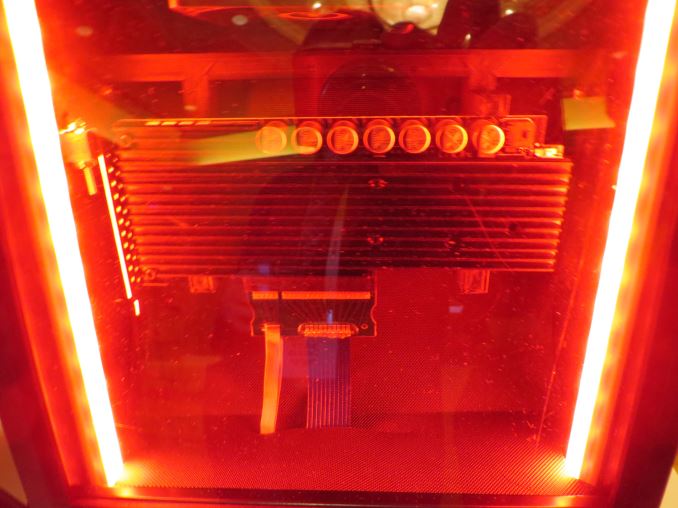 The add-in cards and U.2 drives may be more popular in the enterprise market, which Phison is confident they can break into. However, Phison teamed up with Kingston and Liqid to demonstrate an add-in card that puts four M.2 drives under a heatsink and provides power loss protection capacitors. This can allow for better density and utilization of PCIe slots than a single-controller PCIe x4 add-in card and drop-in compatibility for server platforms that don't have U.2 backplanes, so even in the enterprise space M.2 might win out.
Source: Phison